Live Essay Review
Recorded Monday, October 19 at 09:00 PM
The recording will load in a moment.
About this livestream
Description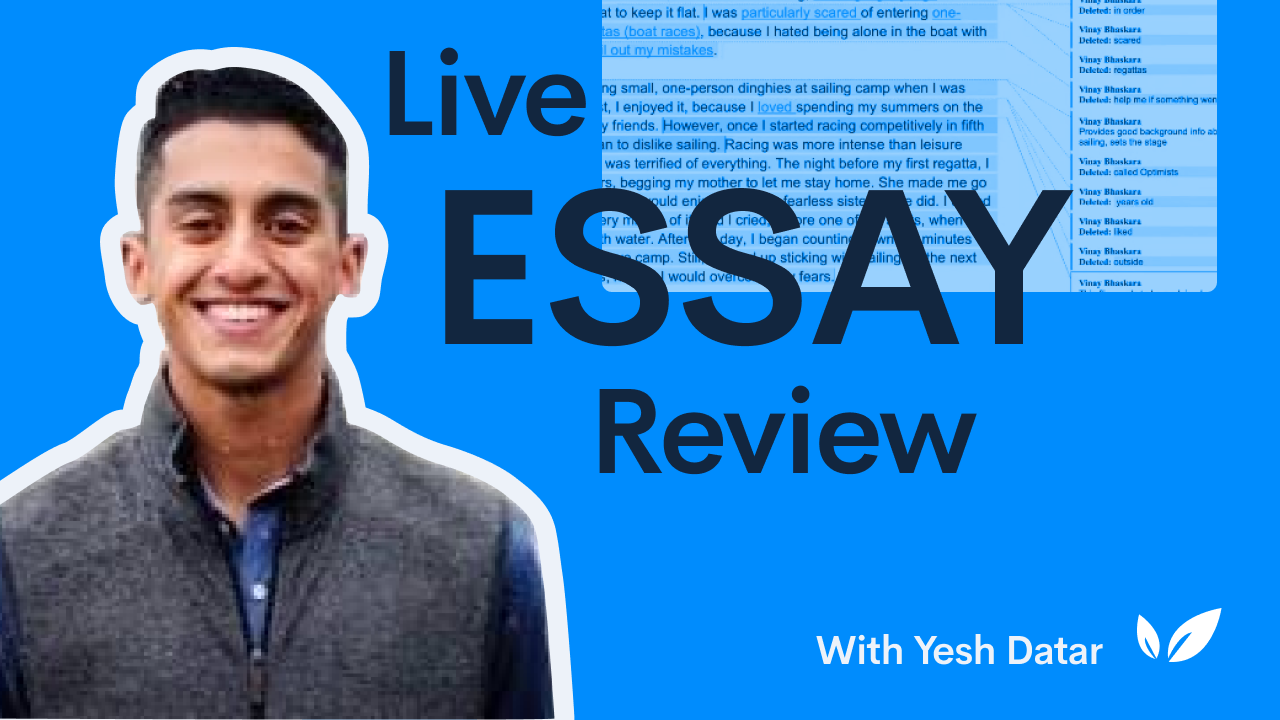 Get your college essay reviewed live during Monday's event.
Yesh Datar will review a select number of essays live during Monday's stream. For each essay, he'll walk through how admissions officers would read the essay, then go paragraph by paragraph to offer suggestions for improvement.
To submit your essay for review, please use the following form.
Your host
Undergrad College: Boston University '20
Major: Medical Science
Graduate College: Boston University School of Medicine
Work Experience: I've been working at CollegeVine for 3 years mentoring students through BS/MD and undergraduate admissions. I am currently a medical student and have done research at Boston Medical Center, Dana-Farber, and the Brigham and Women's Hospital.
Audience questions
These are questions asked by students and answered during this live session. If you have any other questions, you can request an answer from Yesh and other CollegeVine experts in
an upcoming livestream
or on the
Q&A Forum
anytime.
2:49
Angel:
what do you mean by email references?
19:42
Lucia:
When will you have another live essay review?
20:09
Ashley:
how many essays will be reviewed today?
34:15
Araina:
how can we make common issues unique?
35:40
Caroline:
Will a recording be available after the session?
52:32
Roshni:
I know you have 1 more to go but I submitted 21 email references so if the 4th one isn't mine, I'm just confused what happened and want to make sure its not an error with my submission.
53:13
Diane:
What was the average number of email references for the essays selected?