How to Get Into Elite Colleges
Recorded Thursday, November 19 at 12:00 AM
The recording will load in a moment.
About this livestream
Description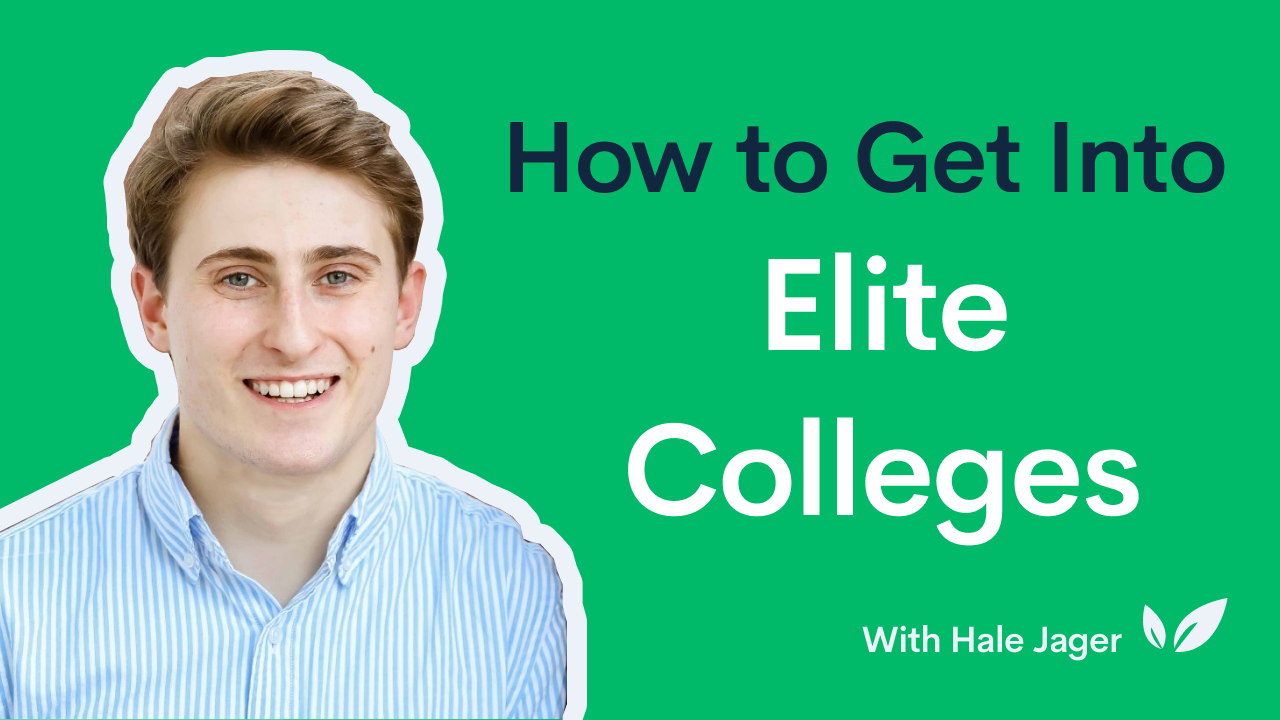 Join Hale Jaeger for an overview of how to get accepted to the top colleges in the United States.
We'll also open up the floor for a Q&A session to answer any and all questions about elite college admissions.
Your host
Undergrad College: Yale University '21
Work Experience: I am a senior at Yale and excited to begin my fifth admissions cycle working with CollegeVine. After four years of working directly with students, I can't wait to engage with the people and the process in new and innovative ways online.
Audience questions
These are questions asked by students and answered during this live session. If you have any other questions, you can request an answer from Hale and other CollegeVine experts in
an upcoming livestream
or on the
Q&A Forum
anytime.
30:35
Shreyas:
What are the ideal grades for a elite student?
30:50
Zeina:
holistically, how can we improve or enhance our application before we submit them?
32:26
Liz:
'22 grad is in similar situation as '21 grad as most schools r still virtual learning , no?
70:13
Shreyas:
I am the only student who took a AP class in 9th and 10th grade in my school. Is that a benefit?
70:44
Jesutoni:
If you don't get accepted for EA does your application go over to regular decision?
71:24
Cordelia:
VT doesn't have GPAs, we have proficiencies, will that prevent me from getting into elite schools?
72:14
Anthony:
does taking a summer course for college credit help (especially in an area where you intend to major)
73:09
Romy:
So is IB honors like AP?
73:47
Cordelia:
What would you say to people who don't know what their passion is yet?
75:31
Chijui:
What are the trends for EA and ED this year? Will there be more of a boost because of uncertainty?
76:48
Liz:
Are tier I elite schools really need blind
77:39
Romy:
What if you have no compelling essay story? I'm in 9th grade by the way
80:39
Liz:
I'm at 10th grader.im taking only 1 AP due to scheduling difficulty while some of my classmates take 4. Am I going to be in a disavantage
81:40
Cordelia:
How advantageous is Duel Enrollment?
83:03
Jacob:
You stated several time in your presentation that colleges look at GPA and course rigor the most. Is that the thing that will most likely make or break your chances of getting into an elite college or is it more of a baseline requirement?
85:14
Halima:
Is it better to have a variety of extracurriculars (in the process of testing the waters) or just one? which allows you to stand out more?
87:35
Jeremiah:
I'm a homeschooler who doesn't have access to AP classes. I have, however, been taking a lot of dual-enrollment courses at a local community college. Do you think this will 'make up' for my lack of APs in an application?
91:13
Jacob:
Should we expect to be denied or expect to be accepted when applying to elite colleges? Or should we try and keep a neutral mindset on our expectations for getting into these top-tier colleges?
92:39
Cordelia:
What can one do to prepare for the interview?
94:54
Jesutoni:
Can you explain how the interview goes after the admissions?
95:40
Ellen:
Does our social life (friends, relationship with adults/teachers, etc.) affect our application?
96:34
Liz:
Is it better to interview with alums or admission officers
97:47
Yanori:
When is the best time to take the ACT and/or SAT? How disadvantageous is it not to take them?
98:57
Liz:
How did you prepare for standardized tests
99:34
Lakshmi:
can I submit a recommendation letter from someone outside of school?
100:40
Cordelia:
I live in a small community. Is there a chance that I could be interviewed by someone I know, is that allowed.
101:20
Jacob:
When it comes to these 'elite' colleges, do they live up to their hype in terms of academic rigor and difficulty?