Just for Juniors: Advising Hours with Moriah
Recorded Wednesday, December 2 at 12:00 AM
The recording will load in a moment.
About this livestream
Description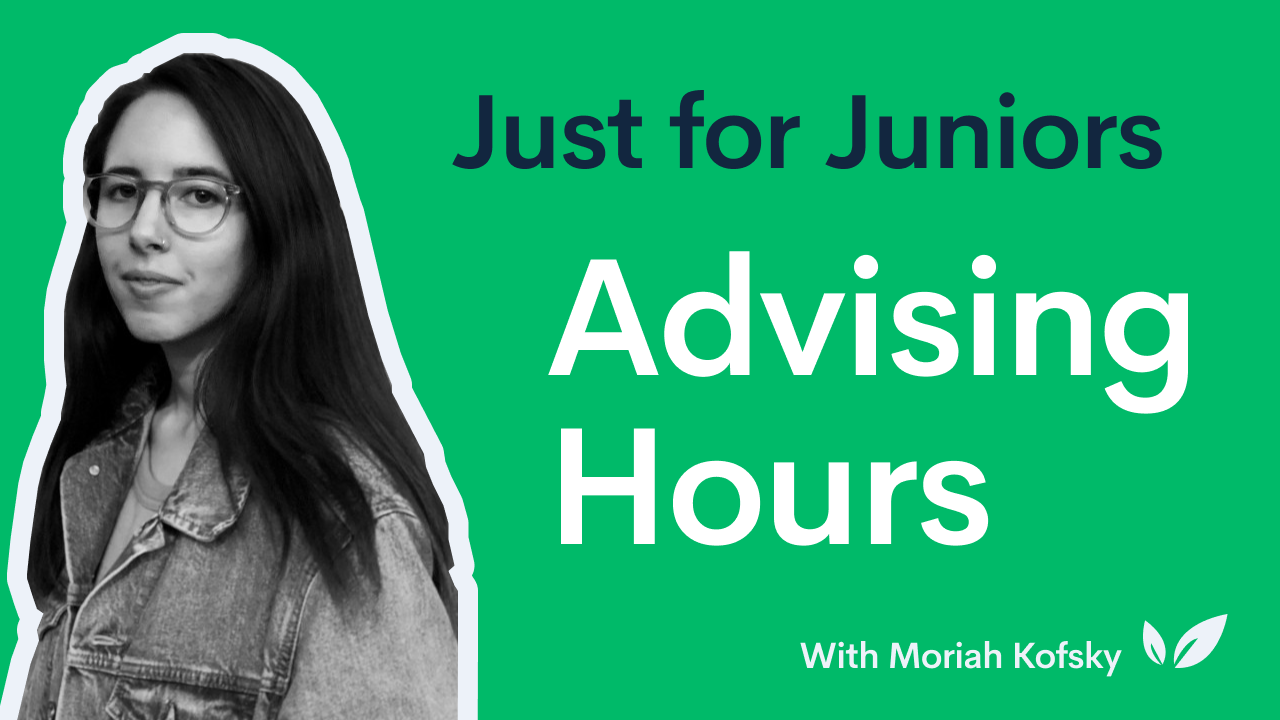 Join Moriah Kofsky for the second installment of a new series: Just for Juniors!
In this event designed specifically for current juniors in high school and their families, Moriah will open the floor to allow you to ask any and all questions you might have about the admissions process. Stop in to ask a few questions or stick around for the whole hour to learn from other viewers' questions!
Your host
Undergrad College: University of Pennsylvania '19
Major: English and Women's Studies
Work Experience: I'm passionate about merging storytelling, psychology, and spirituality to co-create experiences that transform people. In addition to advising students with CollegeVine, I work as a life coach and freelance writer.
Audience questions
These are questions from the audience that we had time to answer during the live session. If you have any other questions, you can request an answer from Moriah and other CollegeVine experts in
an upcoming livestream
or on the
Q&A Forum
anytime.
2:25
Anonymous:
What was important to you when looking for a college?
6:17
Anonymous:
How do you narrow your choices down in terms of a college if you are super open or flexible in terms of what a person wants?
9:22
AJ:
Any advice for getting into uPenn? Its on my reach list :)
11:57
Anonymous:
How do I find out more details about the professors?
14:39
Anonymous:
Do you know how to get in touch with college professors? For example, I want to major and STEM and assist a college professor with research
15:58
Anonymous:
What are the best things you can to stand out to the most competitive universities?
20:04
Serleste:
What are some things I should be doing when applying for college my junior year? First few steps? No Name
25:11
Anonymous:
If you apply to a school that isn't test optional, and you do not submit scores, will that negatively affect your application?
25:50
Anonymous:
What have you noticed to be the biggest difference between public and private schools (beside money)?
29:19
ffsloane702:
How will COVID be playing for our admissons cycle?
31:01
Urim:
Is the safety, target, and reach percentages in comparison to the general admissions percentage or do we use personal calculators like College Vine's.
32:56
Anonymous:
When do you suggest that we have a one-on-one with a college admissions officer? What do you suggest we do in each part of junior year (fall/winter/spring) to be fully prepared for college?
41:41
ffsloane702:
You can contact them there based on your region
42:46
Serleste:
How easy is it or how likely is it to choose your professors per semesters?
44:52
ffsloane702:
What are some other ways that you can show leadership without having a title in a club?
49:12
Anonymous:
do you know any good colleges for those who want to be pre-med?
50:13
Anonymous:
How do you not make your supplemtal essays super generic? How do you make it stand out more?
54:50
Priya:
Where can I find your presentation on activities
55:20
Anonymous:
Do you know what colleges offer dual majors for example a dual major of computer science and finance?
57:16
Anonymous:
Would stat padding be looked at negatively by colleges? I noticed that I accidentally have been stat padding this year, so I have been having some worries.
61:06
Anonymous:
Stat padding as in a drastic increase in course load and EC activities.