Smart Steps for Sophomores: Advising Hours with Moriah
Recorded Monday, December 7 at 10:00 PM
The recording will load in a moment.
About this livestream
Description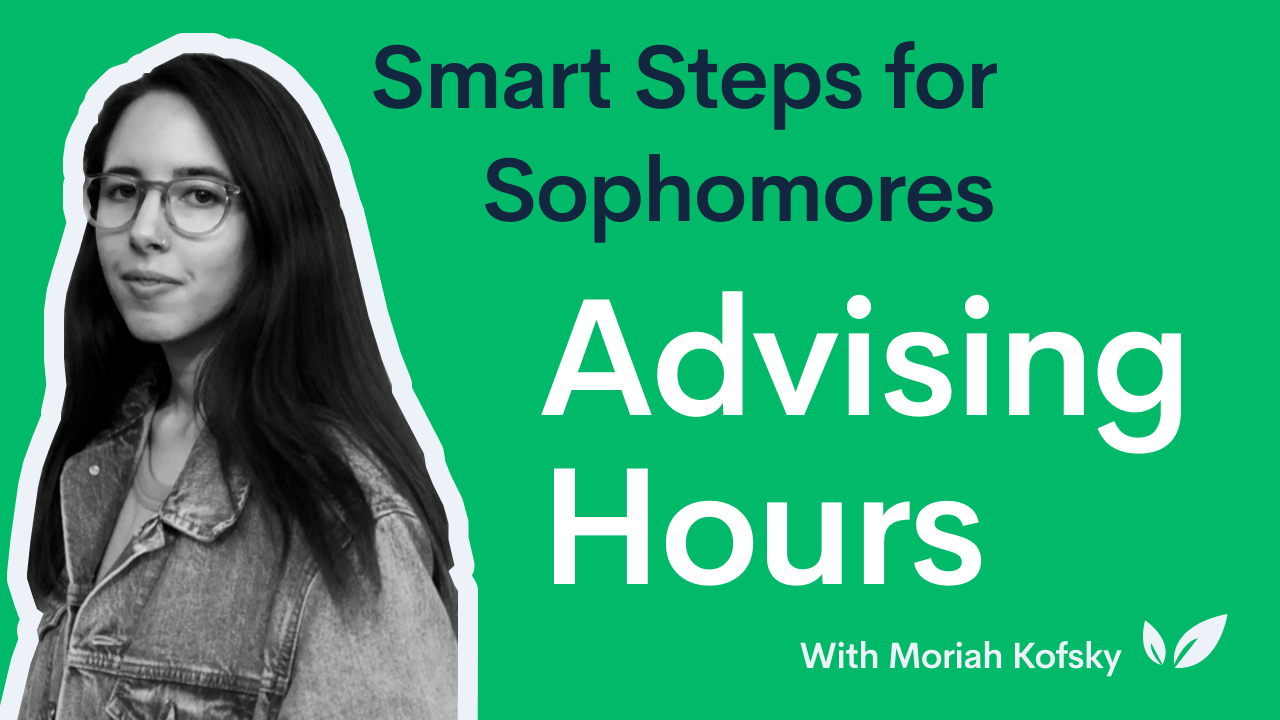 Join Moriah Kofsky for the second session of a new series: Smart Steps for Sophomores!
In this event designed specifically for current sophomores in high school and their families, Moriah will open the floor to allow you to ask any and all questions you might have about navigating the second year of high school and how to continue to develop your profile in preparation for the college applications process.
Stop in to ask a few questions or stick around for the whole hour to learn from other viewers' questions!
Your host
Undergrad College: University of Pennsylvania '19
Major: English and Women's Studies
Work Experience: I'm passionate about merging storytelling, psychology, and spirituality to co-create experiences that transform people. In addition to advising students with CollegeVine, I work as a life coach and freelance writer.
Audience questions
These are questions from the audience that we had time to answer during the live session. If you have any other questions, you can request an answer from Moriah and other CollegeVine experts in
an upcoming livestream
or on the
Q&A Forum
anytime.
2:22
Joanna:
Should I start visiting colleges the summer of my junior year?
5:45
Anonymous:
What if I am not sure what I want to study. What resources/advice do you have so I can start using my time wisely.
10:05
Anonymous:
What summer activities do you recommend to the rising Juniors?
13:39
Owais:
What recommendations do you have for students that are attempting to find extracurricular opportunities now during COVID? How do we discuss COVID in our essays? Would we need to?
20:17
Pranav:
how do i incorporate covid into community service?
21:50
Santoshi:
can u pls spell coursera ??
22:45
Lisa:
How has Covid changed the expectations of extracurricular involvements?
26:08
Rachel:
Any advice for standardized testing?
29:08
Owais:
How can students get involved with research as high schoolers? Are there any resources you would recommend looking into or specific program names?
34:38
Anonymous:
how do we get involved in research if colleges are closed?
37:01
Anonymous:
What is a language major? and should I take it?
38:43
Kimberly:
How do we effectively structure a resume?
42:42
Lisa:
My daughter is interested in linguistics. Any suggestions for summer activities or extracurriculars during the school year?
45:19
Anonymous:
Since we are the sophomores now, what kind of course load you would recommend for the course planning for junior year.
47:37
Anonymous:
will most schools be test-blind by 2023? if so, how much priority should we give to them?
49:20
Anonymous:
Is there a strategy for improving your GPA outside of just getting good grades?
50:35
Anonymous:
does weighted or unweighted GPA matter more?
51:35
Haley:
Should I start searching for scholarships? If so do you recommend any resources?
55:45
Anonymous:
how does taking college classes at community colleges affect an application?
58:57
Anonymous:
Do you have suggestions for medically-centered/focused extracurriculars/summer programs?
60:53
Anonymous:
how do i balance academic rigor and ECs?
63:47
Kimberly:
But what if you have a wide variety of interests in lots of different clubs and you enjoy them?