Political Science Student Panel
Recorded Thursday, December 17 at 01:00 AM
The recording will load in a moment.
About this livestream
Description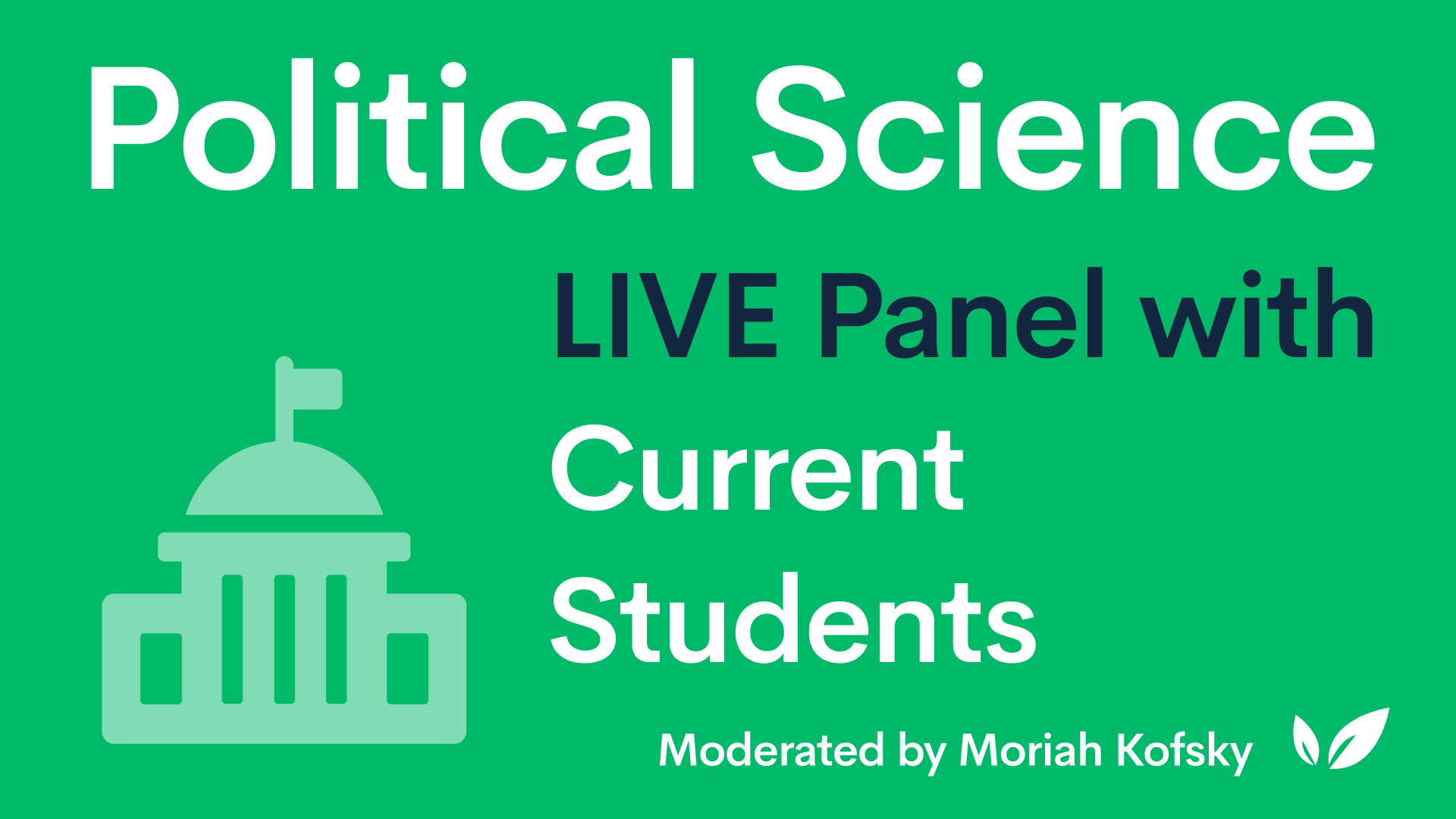 Ask current political science students questions about their major! On this panel, we will explore all topics related to studying political science, such as internship opportunities, class size, post-grad careers, and coursework. Livestream viewers will get to vote on questions and ask their own. Stop in to ask a few questions or stick around for the whole hour to learn from other viewers' questions!
Meet the panelists: Julia, Rowan, and Mike
Julia Kinnear is a junior from Rhode Island in the College of Arts and Sciences at Boston University. She is pursuing a Bachelor's in Political Science. Julia is the gracious living chair of her social sorority, Kappa Delta, and an active member of pre-law society. Outside of school, she enjoys exercising, hanging out with friends, traveling, and playing tennis.
Rowan Hawthorne is a junior originally from Hartford, Wisconsin. She is pursuing a Bachelor's degree in Environmental Studies and Political Science at the University of Vermont. She is very active off-campus with friends, and loves to spend her free time traveling, hiking, climbing, or in a hammock. She is very passionate about the environment and has been since a young age, which is what brought her out to Vermont. Her interest in politics has spiked in the past few years, helping her to become a more active member of her community.
Mike Abrahams is a sophomore from New York City. At the George Washington University he is perusing a Political Science degree. Mike is a member of GW Speakers of the House, a poetry and creative writing collective. He is also a co-director of GWUPIE (George Washington Program on International Education) and an Executive Board member of the IAS (International Affairs Society). He is also a member of the Delta Tau Delta Fraternity. Outside of school, he is a outdoorsman who spends more time in mountains and in the woods than most.
Your host
Undergrad College: University of Pennsylvania '19
Major: English and Women's Studies
Work Experience: I'm passionate about merging storytelling, psychology, and spirituality to co-create experiences that transform people. In addition to advising students with CollegeVine, I work as a life coach and freelance writer.
Audience questions
These are questions from the audience that we had time to answer during the live session. If you have any other questions, you can request an answer from Moriah and other CollegeVine experts in
an upcoming livestream
or on the
Q&A Forum
anytime.
6:13
Shriya :
what are some careers with this major?
6:19
Anonymous:
What are the best paying careers I can follow if I graduate with a political science major or degree?
9:50
Anonymous:
What steps can I follow if I want to take politics to another level. This might include becoming a leader or working with the government. Do I need a certain degree for that?
12:34
Malik:
Hi, I am also looking to focus on the international affairs field of political science. How important is it to be bilingual?
13:47
Brianna:
Is political science a good major for students who want to go to law school
14:00
Juliet:
sorry if this was asked and answered already, but are any of you pursuing careers in law?
16:26
William:
What are politcal science classes like?
20:02
Juliet:
i know you all go to different schools, but what are some of the common aspects of being a polisci major? like research papers, classes, internships, etc. also what are the kinds of research opportunities available as a polisci major?
24:28
Anonymous:
what are some classes and things i should do in high school before going to college to help me advance in my interest, and look committed to colleges?
27:31
Fav:
Is double majoring in political science and journalism a good mix?
28:35
Anthony :
Are there any high school classes that can help prepare you for a political science major?
28:49
Shriya :
what was the application process like to get into college for this major? and is it extremely expensive and/or hard to do?
33:54
Anonymous:
what was the name of the program again?
34:55
William:
What schools have the strongest polisci programs?
37:10
Anonymous:
is polisci considered stem? for scholarships and other opportunities lol
38:41
Samiha:
What are the some of the advising that political science students receive at your schools?
45:48
Anonymous:
how is community amongst polisci students at your schools? like some majors are notorious for being especially cutthroat. would you say there are good communal bonds within the major?
49:51
Anonymous:
Can Michael speak to the GWash Honors Program?
51:52
Malik:
What is life like in D.C.? I am looking to go to Howard, but I've never actually been to D.C.
53:29
Shriya :
How hard is the LSAT? Is that necessary for political science, or law only?
55:07
Salome :
What are job prospects without going to grad or law school? Are there other career opportunities that you can prosper in without grad school?