Best Colleges for PreMed
Recorded Tuesday, December 22 at 12:00 AM
The recording will load in a moment.
About this livestream
Description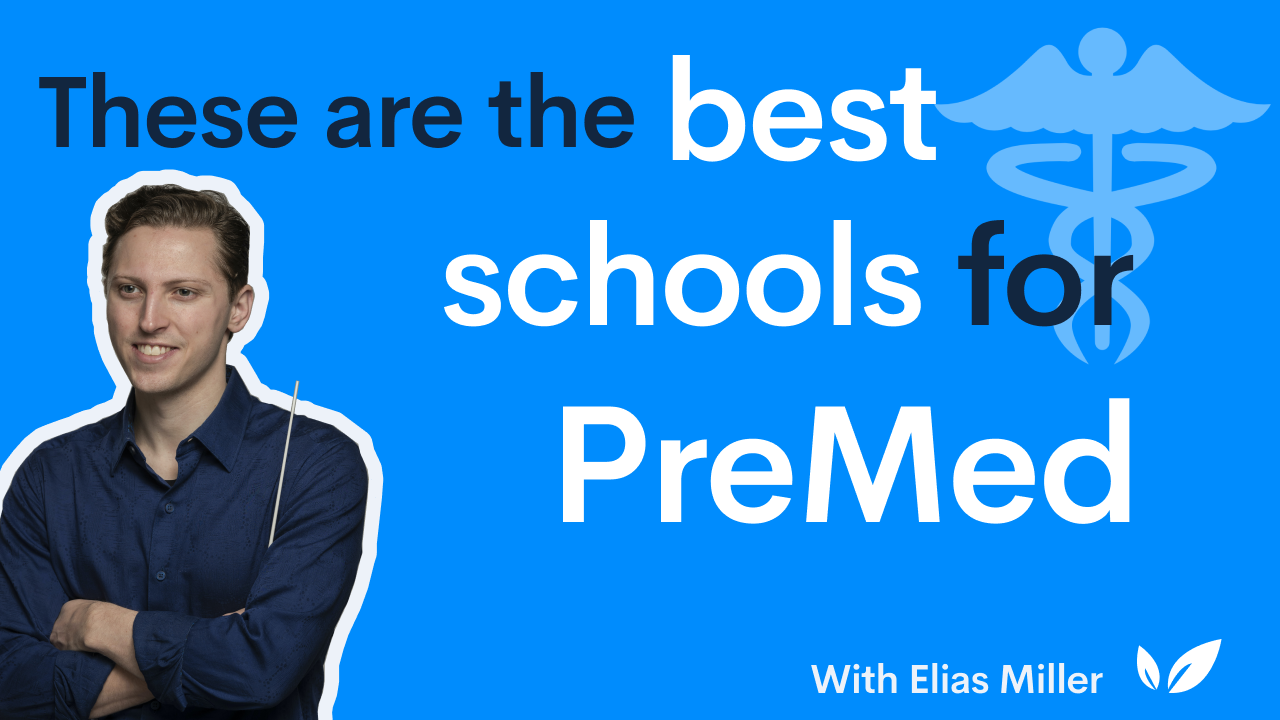 Many students consider themselves pre-med - but what does that really mean? Here, Elias Miller will delve into the true meaning of pre-med and outline which colleges are the best for students on this track.
We will explore schools from around the country, comparing their programs to help you narrow down your prospective college list. We'll give you an in-depth look at their resources, such as what advising programs, research opportunities, and application assistance mechanisms they have in place.
If you're looking to have your questions about pre-med answers, don't miss this insider look into how to take on the field in a way that helps ensure your academic and professional success.
Your host
Undergrad College: Harvard University '16
Major: Music
Graduate College: University of Michigan, M.M.
Work Experience: Now in my third year at CollegeVine, I have helped dozens of students gain acceptance to their top-choice schools and have also advised and mentored hundreds more through my livestreams. I am also a professional conductor and a multi-instrumentalist, and I currently serve as the music director of the Apollo Ensemble of Boston and as Opera Saratoga's assistant conductor. I have led symphonic concerts and operatic productions throughout the United States, and I'm looking forward to making my international conducting debut in Vienna this fall.
My Admissions Story: Initially interested in pursuing a career as a performing cellist, I applied almost exclusively to music schools with dual and double degree options and ultimately enrolled in the Tufts University/New England Conservatory Dual Degree Program. Unhappy with the combined program and worried I'd never feel like I was fully a student at either school, I logged back into CommonApp.org in October of my freshman year. I can't say I went about the transfer process in the smartest way (I only applied to two schools!), but Harvard miraculously accepted me (or 'excepted me' as I wrote in a celebratory Facebook post that day - no one ever let me live that one down), and the rest was history.
Audience questions
These are questions from the audience that we had time to answer during the live session. If you have any other questions, you can request an answer from Elias and other CollegeVine experts in
an upcoming livestream
or on the
Q&A Forum
anytime.
4:43
Kezia:
I think a lot of us know the top premed schools but what are some that are still competitive but don't have as low acceptance rates?
25:43
Kurt:
Can you talk about Liberal Arts Schools and going to Med School? I don't want to give up my passions for my other interests
27:52
Anonymous:
Do you suggest that if we are not sure about whether we want to go to med school yet that we still apply to college on a med track?
28:07
Anonymous:
How does one know which schools have grade deflation?
29:34
Anonymous:
so would we talk about pre-med in our supplementals ( like the ones that ask "why major")?
29:42
Charmaine:
What is grade deflation?
30:50
Anthony:
can you be more specific on needed GPA please - > 3.5 / 3.7 / 4.0 ?
31:50
Anonymous:
Best colleges with premed and music ensembles/programs?
33:12
Anonymous:
What instrument do you play/do you sing?
42:53
Anonymous:
what is required for med school apps.?
43:24
Anonymous:
are ivy league GPA's weighted more than regular ones?
43:56
Niya:
ow about doing BME(Biomedical engineering) with premed, hear that GPA is hard to maintain with BME or does medical school take into consideration which undergraduate course I took?
44:49
Anonymous:
Do you have any resources for us to look up success rate of med school applicants from various colleges
45:12
Anonymous:
when is the MCAT given? when should you start studying for it?
45:57
Kurt:
I still want to continue playing horn (not music major) while on the pre-med track, am I going to have to give up playing with some ensembles in order to be a prepared applicant or do you think it's doable ?
47:22
Charmaine:
Do you recommend a gap year?
49:03
Anonymous:
Do you think that small, liberal arts schools are most attentive to advising Pre-med students?
49:46
Anonymous:
Would it benefit to major in Biology and Business and achieve a dual degree?
52:09
Anonymous:
Would it be difficult to double major with pre-med?
52:49
Anonymous:
Can you invite a current healthcare professional to take about their profession for another CollegeVine topic? Like surgeons, specialists, etc.
53:52
Anonymous:
what are some of the good schools with good grade inflation for premed path other than Harvard?
69:35
Joshua :
Are these us new and world ratings
70:05
Anonymous:
Can you please give me the link ?
70:48
Anonymous:
What can you me about the international medical schools? Virgin Islands, Mexico, etc.
71:35
Kurt:
I know you have a webinar for PA soon but what are your thoughts on PA vs MD and how to choose which one to pursue?
72:30
Anonymous:
What's the difference between an MD and DO?
73:59
Kayla:
What would you recommend that high schoolers do to show a "spike" or interest in premed?
75:22
Kurt:
Thoughts on Vandy ?
75:30
Anonymous:
Can we take Bio-Technology as preMed major?
75:47
Ria:
Can you switch your major once you're in college even if you've applied with different major?
77:38
Anonymous:
What are some things that you would recommend high schoolers to show their interest in premed especially during covid?
78:57
Kurt:
Do US med schools prefer research done in the States or is it okay to do research abroad for a few semesters through a school's study abroad program ?
79:42
Anonymous:
Is there any way to know the admission rate for the BS/MD program rather than just the school as a whole?
83:53
Kaitlyn:
Do you have any peers that are student athletes and are successful in premed?