First Start for Freshmen: Advising Hours with Moriah
Recorded Tuesday, January 5 at 11:00 PM
The recording will load in a moment.
About this livestream
Description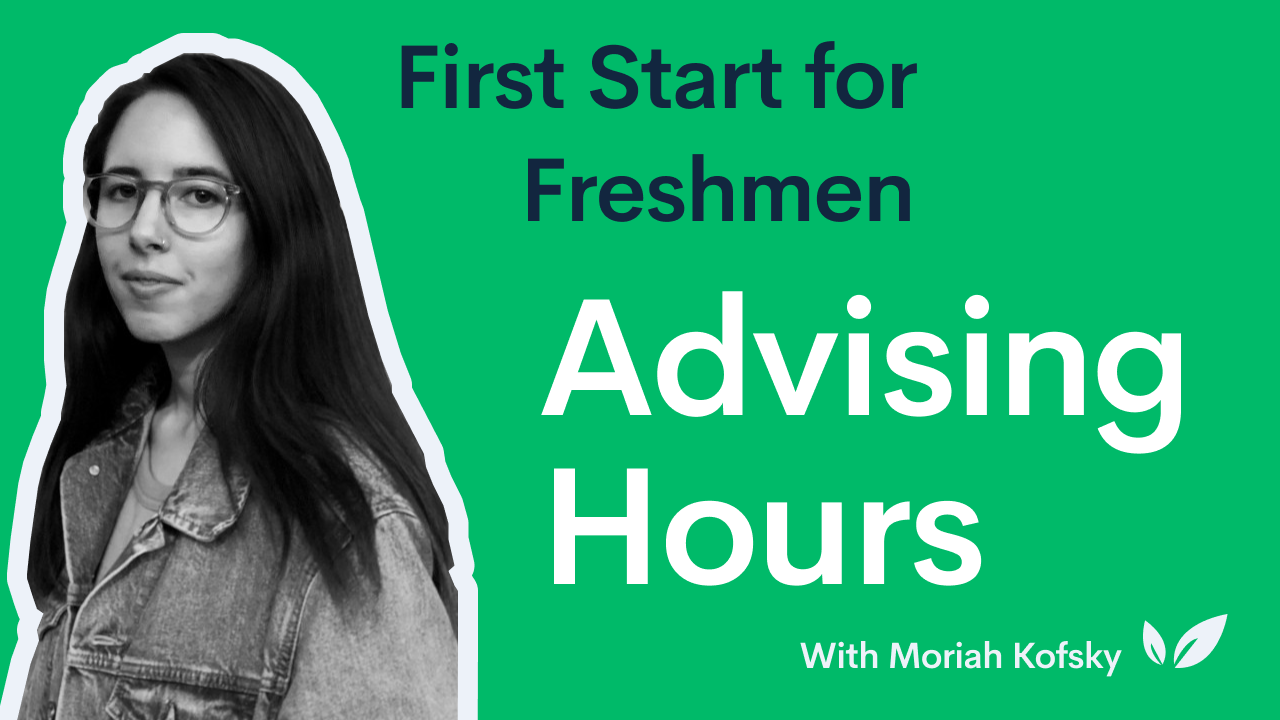 Join Moriah Kofsky for another installment of CollegeVine's First Start for Freshmen Advising Hours!
In this event designed specifically for current freshmen in high school and their families, Moriah will open the floor to allow you to ask any and all questions you might have about navigating the first year of high school and how to set yourself up for future academic success.
Stop in to ask a few questions or stick around for the whole hour to learn from other viewers' questions!
Your host
Undergrad College: University of Pennsylvania '19
Major: English and Women's Studies
Work Experience: I'm passionate about merging storytelling, psychology, and spirituality to co-create experiences that transform people. In addition to advising students with CollegeVine, I work as a life coach and freelance writer.
Audience questions
These are questions from the audience that we had time to answer during the live session. If you have any other questions, you can request an answer from Moriah and other CollegeVine experts in
an upcoming livestream
or on the
Q&A Forum
anytime.
1:46
Mia :
Any suggestions on how to pick a major?
5:53
Anonymous:
what is interdisciplinary?
7:54
Siri:
How many extracurriculars do you need?
11:24
Anonymous:
Any suggestions for summer activities for rising sophomores interested in premed
15:33
Anonymous:
What's women's science?
16:02
Anonymous:
Summer programs for engineering?
16:47
Anonymous:
It says you majored in English and Women's Studies (what's women's studies)
18:06
Anonymous:
The best way to find my niche? I enjoy doing a lot of different types of extra curricular in school and outside of school. But how do I pick "the niche"?
20:21
Anonymous:
I'm interested in family law but I also like acting, am I able to do both in college?
21:25
Rafael:
what should i spend my time doing during the summer and winter holidays as a freshman in highschool?
24:20
Anonymous:
Is it true ivy league schools choose off of class ranks? Does your class rank really effect your application?
25:11
Siri:
What's something really important I can do now to prepare for college apps?
27:11
Anonymous:
Is there anything other than clubs and volunteer work that I can do to help with college?
30:24
S:
Any activity is related to women's science
32:43
Anonymous:
in 9th grade, if my school is offering couple of AP courses, can i take both or one to start with.
33:28
Anonymous:
is starting self-managed projects that follow your passion helpful?
36:11
Anonymous:
My school offers both AP and AICE courses..I am currently taking a few AICE classes...what's the difference between AICE and AP classes?
36:55
Anonymous:
Will this Livestream be saved, in case I would like to revisit it?
36:58
Anonymous:
what should i spend my time doing during the summer and winter holidays as a freshman in highschool?
37:08
Anonymous:
How do we contact you if were interested in women studies?
37:14
Anonymous:
i meant will i be able to manage taking 2 AP courses
39:56
Anonymous:
How many APs do you recommend students take by end of junior year?
42:23
Anonymous:
AICE(Ace) there almost like AP classes but the difference is AICE classes have EOC.
42:47
Anonymous:
should I take language all 4 years even though I don't enjoy it? elite colleges require it though
47:06
Anonymous:
Does it look bad on college apps if you don't take any high school classes on your major but on a different major because you end up deciding on a different major later
48:28
Anonymous:
may i please know what is courseera???
50:10
Anonymous:
what if I participate in science fair but don't move onto the national or international level? will that look bad for ivy applications?
52:08
Shriya:
should I take a bunch of classes over the summer to make room for AP's in sophomore year?
54:25
Anonymous:
What do you consider imperative to succeeding in any application process?
57:56
Jayna:
hi im am a junior in high school...how should i show demonstrated interest?
Upcoming
Most recent recordings