Live Profile Review
Recorded Thursday, January 21 at 10:00 PM
The recording will load in a moment.
About this livestream
Description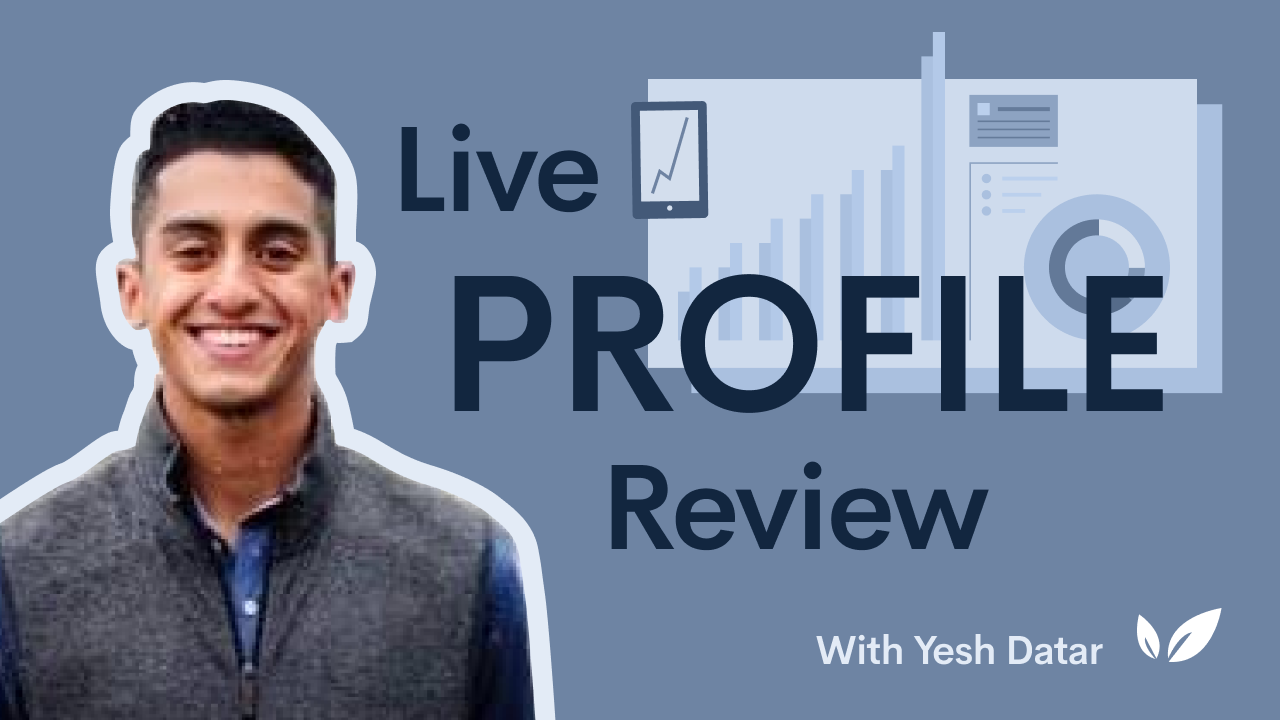 Get your admissions profile reviewed and receive suggestions to increase your chances of admission.
During this live profile review event, Yesh Datar will review real, anonymized student profiles. For each profile Yesh will share his assessment of your academics, extracurricular resume, and overall profile and make recommendations for enhancement. He'll also share an assessment of what your chances of admission are at different universities.
To submit your profile for review, please use the following form.
Your host
Undergrad College: Boston University '20
Major: Medical Science
Graduate College: Boston University School of Medicine
Work Experience: I've been working at CollegeVine for 3 years mentoring students through BS/MD and undergraduate admissions. I am currently a medical student and have done research at Boston Medical Center, Dana-Farber, and the Brigham and Women's Hospital.
Audience questions
These are questions from the audience that we had time to answer during the live session. If you have any other questions, you can request an answer from Yesh and other CollegeVine experts in
an upcoming livestream
or on the
Q&A Forum
anytime.
15:07
Nathaniel:
This is early, but I was wondering is the college vine chancing thing really that accurate? I had a below-par GPA and I even put down a below-par SAT but college vine still left certain schools as safety. Can I be comfortable with that? as in are they actually safeties?
16:40
Anonymous:
We hear and see If my school does not offer AP classes or Honors, does it disadvantage my chances?
17:52
Anonymous:
If my high school professors only teach college level courses, what level should I pick for my courses in Common App? What are differences among high honors, accelerated, advanced, etc.?
25:52
Manjula :
What are tier 1 extra curricular activities
27:24
Anonymous:
What if my school have 13 choices of APs but I can only take up to 7?
28:06
Anonymous:
The college level courses are differential equation, organic chemistry, ...
28:35
Michelle:
What tiers are National Merit Semifinalist, National Merit Finalist?
29:36
Anonymous:
Can you discuss a profile of a student applying to undergraduate business major?
29:56
Nathaniel:
Ok if your school doesn't offer any advanced courses is part time online high schools a good idea ?
42:16
Anonymous:
What if my school did not provide APs or Honours at all, and I registered with an other school and took 3 APs by self-studying? Will it be advantageous or not?
43:04
Anonymous:
Have you heard about "U.S. Presidential Scholars"? Is this something I should consider applying?
43:47
Anonymous:
My GPA is not much good ~3, but I can do ecellent in SAT, ACT and AP. Would taking them all compensate my GPA? (I'm an Indian and plan to get admitted to IVY school)
45:14
Anonymous:
Can you talk about college list tiering? e.g. how many reach schools (e.g. top 10 univ), #target univ in top 11 - 30 univ, #safety univ in top 30 - 100 universities? Or should I use top 1-30, top 30 - 50, top 50 - 100 for reach, target, safety?
46:55
Anonymous:
I have an instagram page where I post things related to education, especially, spoken english (I am an international student). How many followers should I have so that it is considered as a significant extracurricular?
63:41
Anonymous:
How do we submit profiles?
64:22
Anonymous:
I found that many of the IVY admitted students have International achievements such as Global Forums and Top National Awards. Whereas, me an IVY aspirant doesn't have such awards but surely has a major related achievement. I want to go for Computer Science and my extra curricular was that I opened a software development firm when I was 11, and now when I'm 15, my firm totals a revenue of $15,000 per annum. I have a team of 10 members under me. Does this compensate the international achievements?
64:57
Priyanka Paani:
Now, can you please discuss a profile of a business major student, what kind of extracurriculars, awards, academics, etc. are important for top schools like Wharton?
66:15
Jada:
When will the next profile review be? I will be taking my first SAT on March 13th and would want my profile reviewed with my score
74:26
Anonymous:
Can you please show the last profile's awards?
75:00
Aditya:
I have just started with the uptrend in my GPAs, should I appear for SAT now or afterwards? (I have strong preparation for SAT)
Upcoming
Most recent recordings