Open Advising Hours with Elias
Recorded Tuesday, March 2 at 09:00 PM
The recording will load in a moment.
About this livestream
Description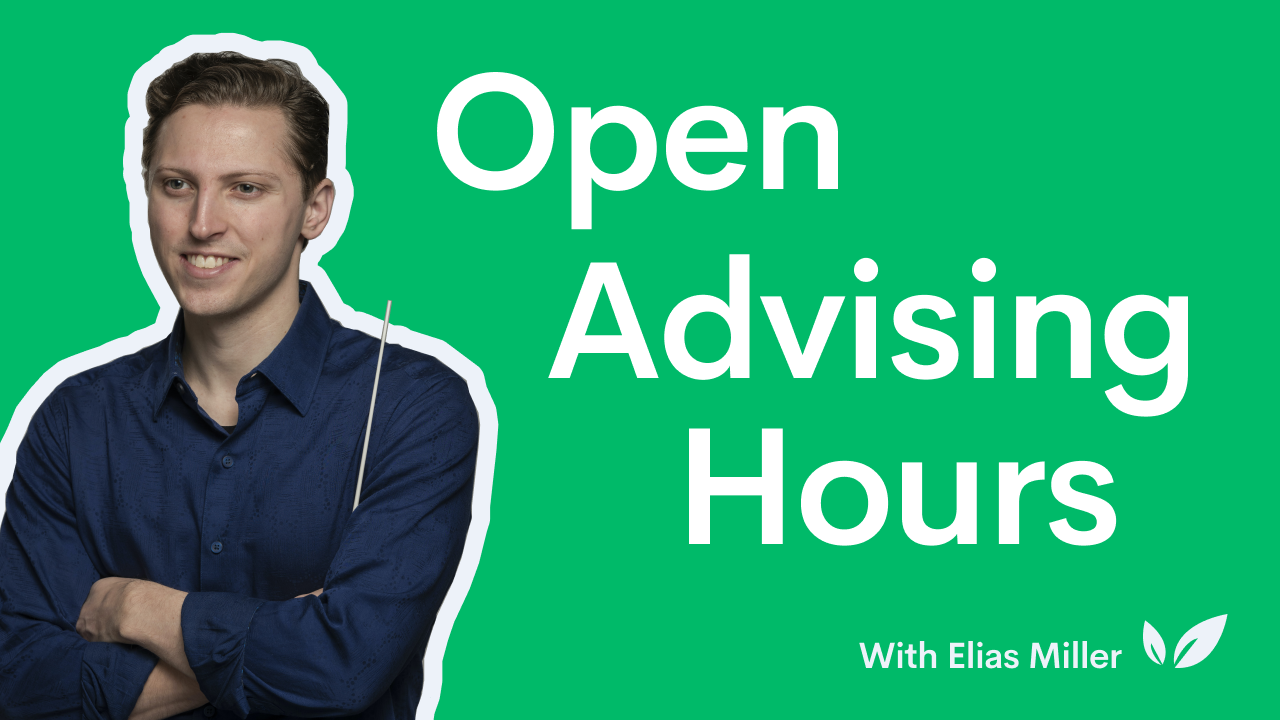 Join Elias for his first Q&A session since moving back to Austria! Elias will be available to answer any and all questions that you have about the college admissions process, the college experience, Harvard, Tufts, NEC, the University of Michigan, music, conducting, life, the universe and everything.
Your host
Undergrad College: Harvard University '17
Major: Music
Graduate College: University of Michigan, M.M.
Work Experience: Now in my third year at CollegeVine, I have helped dozens of students gain acceptance to their top-choice schools and have also advised and mentored hundreds more through my livestreams. I am also a professional conductor and a multi-instrumentalist, and I currently serve as the music director of the Apollo Ensemble of Boston and as Opera Saratoga's assistant conductor. I have led symphonic concerts and operatic productions throughout the United States, and I'm looking forward to making my international conducting debut in Vienna this fall.
My Admissions Story: Initially interested in pursuing a career as a performing cellist, I applied almost exclusively to music schools with dual and double degree options and ultimately enrolled in the Tufts University/New England Conservatory Dual Degree Program. Unhappy with the combined program and worried I'd never feel like I was fully a student at either school, I logged back into CommonApp.org in October of my freshman year. I can't say I went about the transfer process in the smartest way (I only applied to two schools!), but Harvard miraculously accepted me (or 'excepted me' as I wrote in a celebratory Facebook post that day - no one ever let me live that one down), and the rest was history.
Audience questions
These are questions from the audience that we had time to answer during the live session. If you have any other questions, you can request an answer from Elias and other CollegeVine experts in
an upcoming livestream
or on the
Q&A Forum
anytime.
3:43
Colin:
I'm done with college apps and checking in to say hi
4:24
Colin:
I've gotten into UVA and waiting on 10 more schools
4:48
Anonymous:
How has the pandemic affected how colleges view extracurriculars?
7:47
Mark:
How did you distinguish yourself as a musician which made you stand out to the admissions team at Harvard.
11:17
Anonymous:
How can you do well on interviews with college administrators?
13:19
Anonymous:
Most interviewers are now student interns.
14:24
Anonymous:
I am talking about this year, probably due to COVID
15:08
Anonymous:
What can you do if you feel that you blew your audition to a music school? This happened today.
18:30
Colin:
Do all ivys send out likely letters? How rare is it for them to sent an applicant one/how strong of an applicant would you have to be to receive one?
19:14
Colin:
how low of a grade drop would cause an elite school applicant to have their acceptance rescinded?
20:19
Anonymous:
If I finish my math requirements in sophomore year (Taking AP Calc in 10th grade), how will colleges look at the lack of math courses in Junior and Senior Year? Should I take College level courses?
22:05
Colin:
Jesus ap calc in 10th ur a beast
22:24
Anonymous:
Are winning contests important for colleges even though they aren't directly related to your major? For example, an engineering and science fair and a random speech contest for a econ major?
26:07
Anonymous:
What kind of students get into an econ major at Harvard? Do I need to have ECs related to economics?
26:54
Anonymous:
Does it look bad if you don't have many extracurriculars in your freshman and sophomore year, but started doing more in your junior year?
27:29
Anonymous:
is it hard to transfer to become a econ major at harvard
28:27
Shriya:
What is the best Ivy League for a Computer Science Major
29:29
Anonymous:
Are you seeing my questions? New to CV and I don't know how to have my questions tagged with the yellow Question bubble thing
29:43
Anonymous:
how do i manage my time in hs? I feel like i am wasting time. (i procrastinate)
32:22
Emmett:
Do colleges weigh all extracurriculars equally?
33:37
Anonymous:
My son has a school discipline record, he was suspended for several days in his freshman year, he is doing academically very well, how does this discipline record impact college admissions? We are very worried about it
35:42
Anonymous:
Can you search the acceptance rate RD Wharton vs ED Wharton? IM STRESSSSSEEDDDD :)
36:38
Shriya:
What do you think is the hardest part of college applications?
37:32
Anonymous:
Where can one find the IPED... nothing shows up when searched
38:36
Anonymous:
Is the financial aid at Penn based in school-specific or Penn-specific?
39:29
Emmett:
What's a common mistake people make on their app?
40:50
Aditya:
Not graduating from a regionally accredited highschool. How much does it affect my application?
41:23
Anonymous:
Can 'business spikes' fits at a liberal arts college?
42:07
Anonymous:
For getting into Wharton, do I need that 'normal business kid' who just wants to make money? Or I would need to fight for a 'cause'?
43:24
Anonymous:
What if you do science fair at a state level but don't go to national or international? Would that extracurricular still be substantial in apps?
44:03
Emmett:
I recently made a lot of money trading Gamestop stock. Is it a bad idea to write about it in my college essay?
46:06
Anonymous:
Hey Shane. How reliable are IPEDS?
47:20
Anonymous:
You should make a livestream about Wharton :)
47:24
Emmett:
The current price of it is $118
47:34
Emmett:
Wish I made 118K! ha
50:51
Anonymous:
Shane how accurate are IPEDs
52:03
Shriya:
What is an IPED?
53:08
Anonymous:
What does it mean to build a theme on your college application?
55:54
Shriya:
Haha I'm sorry - I sent the question before he said it!
56:00
Anonymous:
any day now shane
58:09
Anonymous:
what happened with the IPED shane :)
60:31
Anonymous:
Can you play the cello for us for a quick minute at the end of the stream?
61:05
Anonymous:
Does Penn care about demonstrated interest?
62:15
Jonathan:
Aside from your essay, where and how would you indicate the theme connection on your application?
62:52
Anonymous:
How can I work for College Vine in the future? :0
64:08
Colin:
Griffin from contact support
64:45
Shriya:
Do all Ivy students own organizations or are there other ways to get in?
66:10
Anonymous:
One of my hobbies is railfanning, like watching freight trains. I like to take photos of obscure old locomotives. Is this too strange of a hobby to write about in my essay?
68:06
Anonymous:
SHANNNNEEEEE
68:10
Anonymous:
SHANNNEEEEEEEEEEE
68:20
Anonymous:
Imma miss Amanda's livestreams this week :0
68:31
Anonymous:
The railroad kid!!!! hahahahqh
68:50
Anonymous:
shanneeeeeeee! 2024 ?
68:53
Anonymous:
SHAANNNNEEEEEEEEE I MISSSSSS YOUUUUUUUU
69:04
Anonymous:
SHANNNNEEEEEEEEEEE
69:10
Anonymous:
shane 4 prez!
69:13
Anonymous:
YESSSSSSS SHANNNNEEEEE
69:29
Anonymous:
Yes! I love CSX and BNSF railroad!
69:35
Anonymous:
EELIAASSSSSSSS
69:54
Anonymous:
Hopefully I'll be remembered as the El Sistema kid, so you got a fan here Elias, as a fellow musician (trumpet player from Caracas)
70:09
Anonymous:
SHANNNEEEEEE YOU LOOK GREATTTT
71:05
Colin:
Could you discuss feeder schools and the role they play in routinely sending students to top schools? Does this put students from less well known high schools at a disadvantage?
71:53
Anonymous:
SHANE YOUR EYES!!!!!
72:10
Anonymous:
SHANNNNNEEEEEEEE
73:11
Anonymous:
Shane's sweater tho-
73:21
Anonymous:
You guys have fire sweaters!
73:48
Jonathan:
what is BLS?
74:44
SHANE:
I HAVENT SEEN YOU IN FORVER
74:59
Colin:
Boston Latin School
75:28
Anonymous:
ayo not y'all simping fo shane
75:37
SHANE:
LOVE THOSE EYES MAN
75:59
Shriya:
A lot of college youtubers I saw created non-profit organizations, it seems like a must-do for ivies
79:17
Anonymous:
ELLLIIAAASSSSSSSSSSSSSSSSSSSSSSSSSSSSSSSSSSSS
79:27
ELIAS:
ELLIASSSS IS A 10!
80:00
Colin:
Did you know any student at Harvard that you didn't think deserved to be there?
80:10
ELIAS:
ARE PRIYA AND SHANE DATING?
80:30
Shriya:
I will be referencing this livestream in the Yale one
80:37
ELIAS:
OR ARE PRIYA AND ELIAS DATING?
81:42
Emmett:
Is it hard to have a work/life balance at a school like Harvard
82:55
cam:
I think you're doing great, man
83:30
Emmett:
I give it a tan out of tan!
83:49
Shriya:
Im going to every stream by Elias or Shane or Priya
84:02
Anonymous:
This is the BEST stream ever, I've never seen this kind of energy anywhere
84:12
Cristina:
Can you talk about the increased applications this year to competitive colleges, given test-optional policies?
84:22
cam:
10/10 would watch again
85:29
Anonymous:
10/10 would invest in this trio.
87:14
Cristina:
Would you evaluate a school's financial situation before applying (Scott Galloway's)
89:04
Emmett:
Hows the food at harvard?
89:39
Emmett:
I'm taking off, you're super engaging and interesting and a great host. Thanks doood
89:53
Seryna:
DO you have to buy your own food?
90:36
Seryna:
HOW DID YOU GET INTO HARVARD??????
91:40
Seryna:
Is lesley a good school?
92:05
Anonymous:
What is the best way to study for SAT/ACT
92:38
Anonymous:
What about wellesley
93:31
Colin:
Study sat with a mask on
93:38
Seryna:
What college would you reccommend for someone who wants to be a social worker but wants to play soccer?
94:08
Seryna:
How many colleges do you recommend to apply for 1-10?
94:13
Shriya:
Im gonna dip now, but I quickly wanted to say thank you so much, you're a great host! (I'm sure the 1's were jokes)
94:23
Seryna:
I am still looking for colleges but have applied for 2.
95:00
Seryna:
Is priya a social worker?
95:14
Cristina:
thank you, lots of fun...
95:26
Seryna:
Thank you so much!
Upcoming
Most recent recordings