Hidden Gems: Underrated schools for business
Recorded Saturday, April 3 at 09:00 PM
The recording will load in a moment.
About this livestream
Description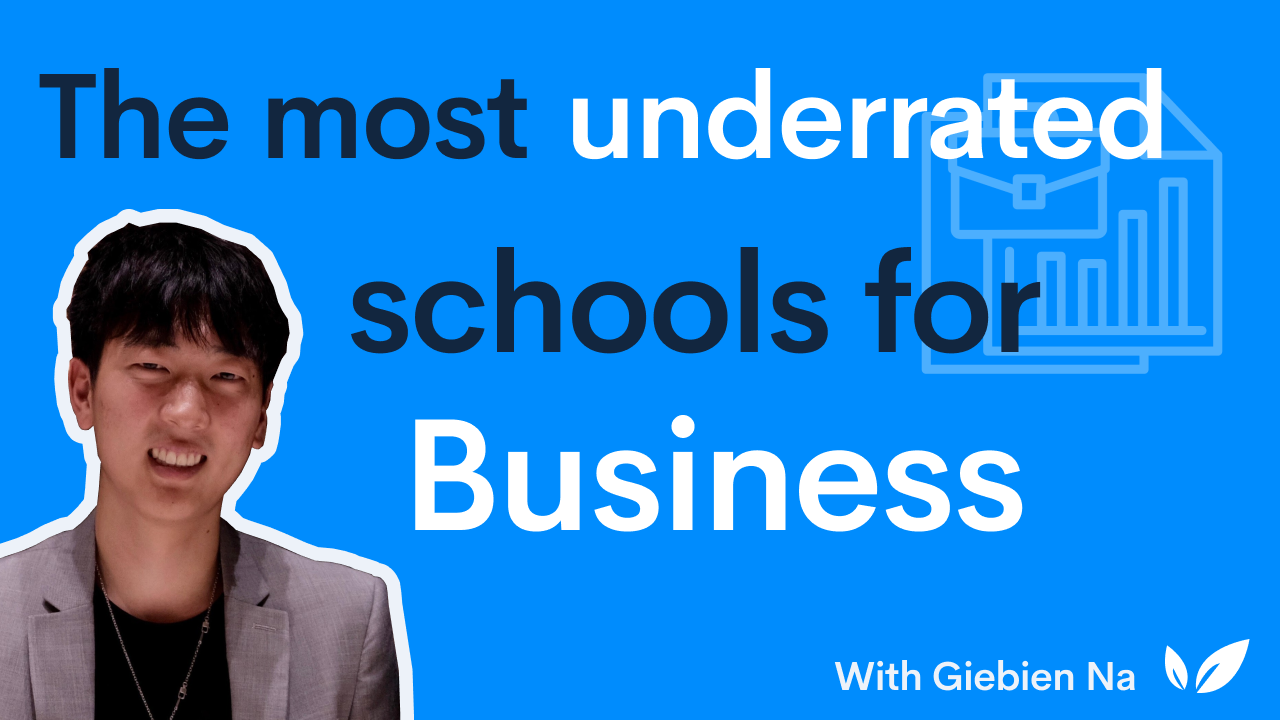 Do you really like wearing suits? Perhaps thinking about a career in business? Then don't miss this episode of Hidden Gems, as Giebien goes over the top ten most underrated business colleges you may not have heard about before.
Giebien will explore schools throughout the country, detailing what prospective business students should look for in a college and explaining what makes each of our picks special. He'll also take an in-depth look at their resources, such as any vocational opportunities they may have in place.
Stop by to ask questions or stick around the whole hour to learn how you can take on the field of business.
Your host
Undergrad College: Harvard University '17
Major: Music
Graduate College: University of Michigan, M.M.
Work Experience: Now in my third year at CollegeVine, I have helped dozens of students gain acceptance to their top-choice schools and have also advised and mentored hundreds more through my livestreams. I am also a professional conductor and a multi-instrumentalist, and I currently serve as the music director of the Apollo Ensemble of Boston and as Opera Saratoga's assistant conductor. I have led symphonic concerts and operatic productions throughout the United States, and I'm looking forward to making my international conducting debut in Vienna this fall.
My Admissions Story: Initially interested in pursuing a career as a performing cellist, I applied almost exclusively to music schools with dual and double degree options and ultimately enrolled in the Tufts University/New England Conservatory Dual Degree Program. Unhappy with the combined program and worried I'd never feel like I was fully a student at either school, I logged back into CommonApp.org in October of my freshman year. I can't say I went about the transfer process in the smartest way (I only applied to two schools!), but Harvard miraculously accepted me (or 'excepted me' as I wrote in a celebratory Facebook post that day - no one ever let me live that one down), and the rest was history.
Audience questions
These are questions from the audience that we had time to answer during the live session. If you have any other questions, you can request an answer from Elias and other CollegeVine experts in
an upcoming livestream
or on the
Q&A Forum
anytime.
0:00
Anonymous:
Has the live started? Or am I freezing?
4:39
Anonymous:
PLEASE a Stream for What to do when waitlisted? What are the chances? which one to choose?
14:46
Anonymous:
when assessing ROI, should I exclude grants, Finaid, scholarships? Or the full cost of attendance?
15:53
Anonymous:
Specific for computer science: should I apply through the back door?
17:20
Anonymous:
What is the best way to stand out for an undergrad business school? Do I need to be the "typical business guy" who just wants to make money?
30:11
Anonymous:
University of Texas at Austin Austin, TX #42 in National Universities (tie)
35:30
Anonymous:
This is from US News: Tuition and fees $5,970 (2020-21) Average annual cost $13,181
35:56
Anonymous:
Babson very famous for entrepreneurship
36:01
Anonymous:
If I intend to become an entrepreneur, would Babson be a better choice than Wharton?
37:06
Anonymous:
If you want to land a job on Wall Street, do you think attending these schools may be hinder chances (as recruiting occurs in bigger schools)? or do you think specialty (like Babson) does matter?
40:41
Anonymous:
Can I take business classes at Harvard/Yale?
48:42
Lavanya:
Can you please list the names of the colleges that you mentioned here? I am not able to catch
50:24
Lavanya:
Sorry I don't mean like that. You are going fast
50:41
Anonymous:
How do you feel about Wesleyan University
51:24
Anonymous:
Would Columbia be a "better choice" for finance than Harvard considering Columbia is in NYC?
57:28
Anonymous:
What about Bentley?
59:07
Anonymous:
My mom went to Harvard ...
59:23
Anonymous:
Do you know people who got into Wharton? Can you talk a little about what they did in HS?
60:49
Anonymous:
Again, does it make more sense to study something else in undergrad and then pursue business as a graduate degree (MBA)?
62:00
Anonymous:
does it make sense to study economics, history, or CS, for example, as an undergrad and then pursue an MBA?
63:13
Anonymous:
Wharton: two students, one was a swimmer, the other very artsy. Both great GPAs and SAT
63:20
Anonymous:
Thank you for making this so entertaining!
64:32
Anonymous:
I think there are other business schools, Georgetown, Purdue, Santa Clara, San Diego
66:21
Lavanya:
Can we have a similar thing for engineering schools?
66:22
Anonymous:
Can you have a HIdden Gems in CS?
67:06
Anonymous:
Could you please do one for international students?
69:23
Cristina:
If you do one for international students, please take into consideration Financial Aid ?
69:33
Cristina:
Harvard, Yale, Princeton, Amherst, etc are need blind for international students....
69:45
Anonymous:
Do international students have a stereotype of being "rich"?
70:47
Cristina:
It would be interesting to analyze this year's statistics... for international students asking for Fin Aid...
71:17
Lavanya:
Thank you for considering
71:59
Anonymous:
NYU is not that good for financial aid for domestic and international students lol
72:00
Cristina:
most got waitlisted...
Upcoming
Most recent recordings