Open Advising Hours with Elias
Recorded Monday, March 8 at 09:00 PM
The recording will load in a moment.
About this livestream
Description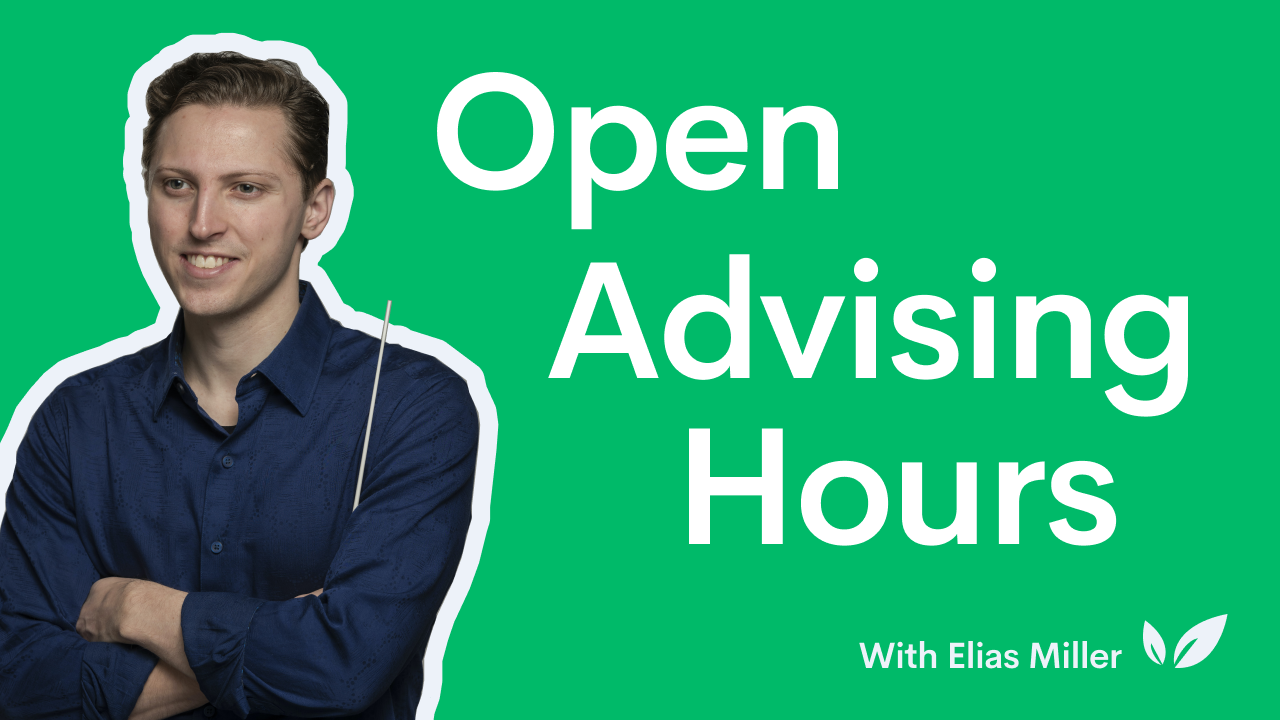 Join Elias Miller for another edition of his famed open advising hours! Elias will be available to answer any and all questions that you have about the college admissions process, the college experience, Harvard, Tufts, NEC, the University of Michigan, music, conducting, life, the universe and everything. Stay tuned for some possible guest appearances as well! You never know when Priya Desai or Shane Niesen might drop in.
Your host
Undergrad College: Harvard University '17
Major: Music
Graduate College: University of Michigan, M.M.
Work Experience: Now in my third year at CollegeVine, I have helped dozens of students gain acceptance to their top-choice schools and have also advised and mentored hundreds more through my livestreams. I am also a professional conductor and a multi-instrumentalist, and I currently serve as the music director of the Apollo Ensemble of Boston and as Opera Saratoga's assistant conductor. I have led symphonic concerts and operatic productions throughout the United States, and I'm looking forward to making my international conducting debut in Vienna this fall.
My Admissions Story: Initially interested in pursuing a career as a performing cellist, I applied almost exclusively to music schools with dual and double degree options and ultimately enrolled in the Tufts University/New England Conservatory Dual Degree Program. Unhappy with the combined program and worried I'd never feel like I was fully a student at either school, I logged back into CommonApp.org in October of my freshman year. I can't say I went about the transfer process in the smartest way (I only applied to two schools!), but Harvard miraculously accepted me (or 'excepted me' as I wrote in a celebratory Facebook post that day - no one ever let me live that one down), and the rest was history.
Audience questions
These are questions from the audience that we had time to answer during the live session. If you have any other questions, you can request an answer from Elias and other CollegeVine experts in
an upcoming livestream
or on the
Q&A Forum
anytime.
5:40
Heather:
Your lighting is good! lol
6:56
Anonymous:
What is it like to be a student in Boston/Cambridge?
9:43
Heather:
So, I will start with a question! Let's talk APs. My daughter will have taken 8 APs by the end of her senior year. For Rice and the Ivy's...is this a good number?
11:37
Anonymous:
What are links for ranking universities in the world?
12:25
Anonymous:
If you had to give only one tip for students applying for Harvard, what would it be?
14:07
Anonymous:
Who were one of the most outstanding kids you've met at Harvard?
17:40
Anonymous:
So, I am a low-income student soon applying to colleges (c/o 2022) and my parents are warning me not to go too far because of food-security and that being a potential issue. What's your take on that? Do you know students that are homeless (am asking because I hear that this is sadly a reality for some students)?
25:42
Favour:
Any advice for students wanting to go a little far for college/university?
28:20
Anonymous:
It was. Thanks!! :)
28:37
Anonymous:
One thing you weren't expecting when studying at Harvard?
30:36
Anonymous:
What are factors to choose which university to go as an admitted student? Does CollegVine has an article?
37:46
Fariba:
My son has a 4.0 GPA and he does rowing competitively . He qualifies as a lightweight because of his height and weight. He wants to go to princeton. Would he get in with out ACT?
40:06
Favour:
What is grade inflation?
43:03
Anonymous:
How hard was it for you transfering schools, especially to harvard?!
43:20
Anonymous:
My daughter has a 34 ACT and 1580 SAT. Should she go test optional, keep trying for a higher score or submit the scores she has? For context, we plan to apply Stanford, Yale, Rice, Vandy, UNC, UVA, etc....
44:40
Anonymous:
Can you talk about University of Toronto? Can CollegeVine do an ultimate guide for it?
45:43
Anonymous:
I play alto sax and I am part of my school band. If I plan to be part of the band for all 4 years, but not looking at competitions to participate individually, will that count as a good EC showing commitment?
47:36
Anonymous:
I'd love if you explain both! Applying and getting into Harvard. And, the transitioning of becoming an actual student there.
54:50
Anonymous:
What tools does Shane like to use and recommend for digital content?
60:24
Anonymous:
What's your instagram?
61:19
Anonymous:
What's your personal instagram elias
Upcoming
Most recent recordings