Meet Shravya | Livestream Q&A
Recorded Tuesday, March 9 at 12:00 AM
The recording will load in a moment.
About this livestream
Description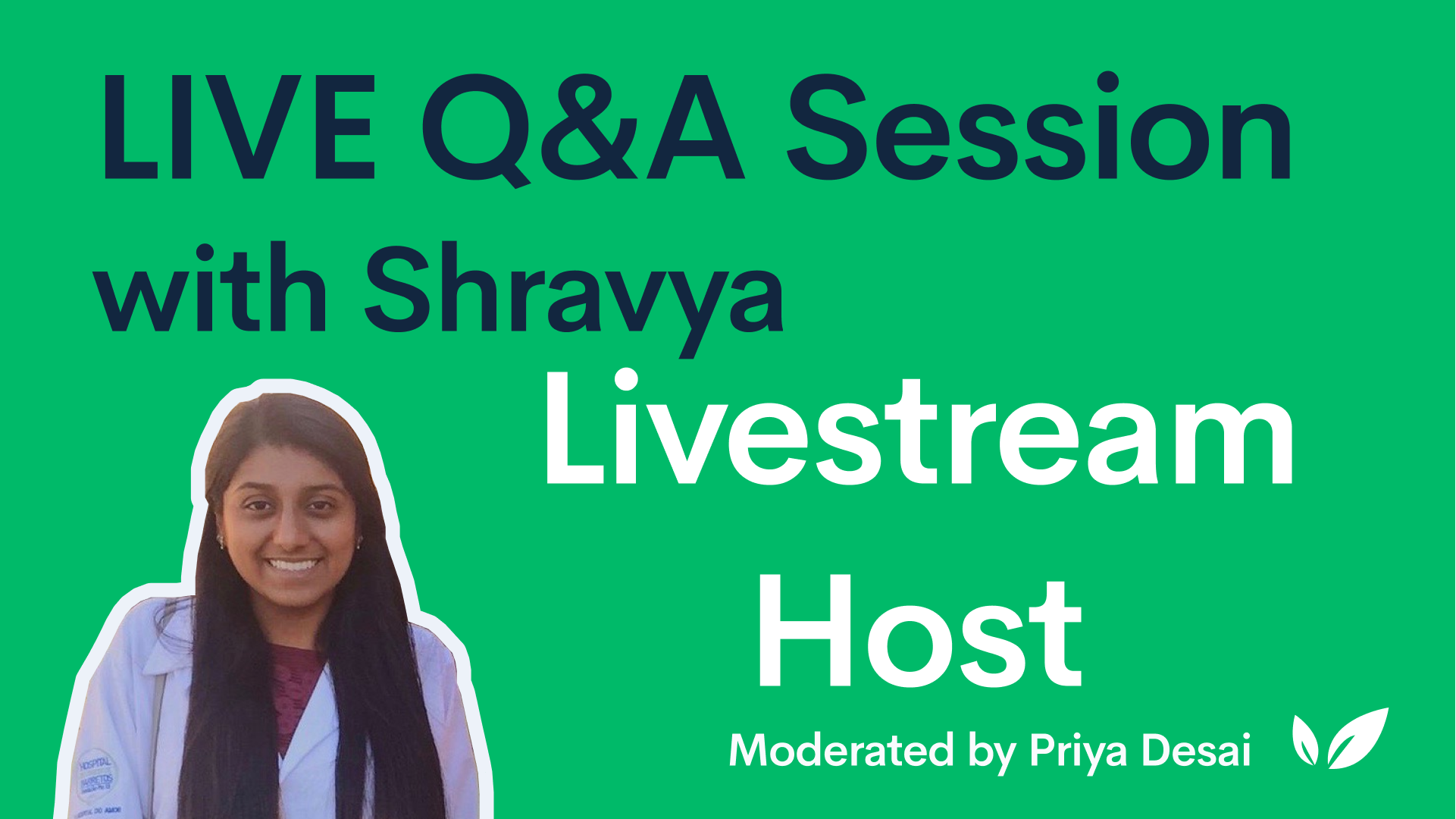 Join Shravya Kakulamarri as she hosts her first-ever livestream at CollegeVine! Shravya is a recent graduate of Rice University on the pre-med track and will be discussing her college admissions journey, as well as answering questions about her pre-med experiences.
(Note on Host: Priya and Shane will be helping Shravya run her first livestream, but we'll have her hosting profile up and ready as soon as possible!)
Stop in to ask a few questions or stick around for the whole hour to get to know our newest livestream host!
Your host
Undergrad College: Rice University '20
Work Experience: During my time at Rice, I mentored dozens of high school students through the college application process, along with editing essays and tutoring students for the ACT/SAT. I also interned at a medical technology startup, conducted research in Brazil, and gave a TEDx talk. I recently finished applying to medical school; I've been admitted to multiple schools, and will be starting in the Fall.
My Admissions Story: I remember feeling very blindsided by the admissions process and not knowing where to begin. I hope that sharing my experiences and some of the things I've learned along the way will help guide other students in a similar boat.
Audience questions
These are questions from the audience that we had time to answer during the live session. If you have any other questions, you can request an answer from Shravya and other CollegeVine experts in
an upcoming livestream
or on the
Q&A Forum
anytime.
7:47
Kamora:
What schools did you get into (out of the ones you applied to)?
9:44
Anonymous:
How many AP courses recommended on an average to take in high school?
10:57
Kamora:
It depends on how many your school offers, correct?
12:25
Kamora:
Did you take the SAT? I may have missed that if you mentioned it
15:19
Anonymous:
how many years of Fine Art Credits in high school does UC colleges require? is it in visual arts only or is choir considered by them too.
17:02
Kamora:
How many teacher recs did you obtain?
18:32
Kamora:
What advice do you have for a second semester Junior?
19:17
Anonymous:
how does collegevine help in reviewing essays. like do i submit through email and get reviewed?
21:36
Anonymous:
when is the good time to start preparing for PSAT and SAT?
32:10
Anonymous:
what did you do in high school to get into Rice?
32:50
Anonymous:
Did you get into any of the Ivys you applied to?
37:07
Anonymous:
What can you say about someone wanting to double major in biomed and electrical engineering and also wants to double minor in mechanical engineering and history?
39:33
Anonymous:
Was there any math included in your major? Please say no! I'm begging you!!!
40:54
Kamora:
What was your weighted and unweighted GPA?
43:55
Anonymous:
First, would you say being a student-athlete makes it harder in college? Second, what are some traditions at Rice?
46:02
Anonymous:
what is the threshold for student-athletes at Rice?
47:51
Anonymous:
Would you say Rice is diverse? Many of these Ivy and great colleges are populated with mostly white, asian, and indian. Barely any black or hispanic
Upcoming
Most recent recordings