How to study for the AP exams
Recorded Thursday, April 22 at 10:00 PM
The recording will load in a moment.
About this livestream
Description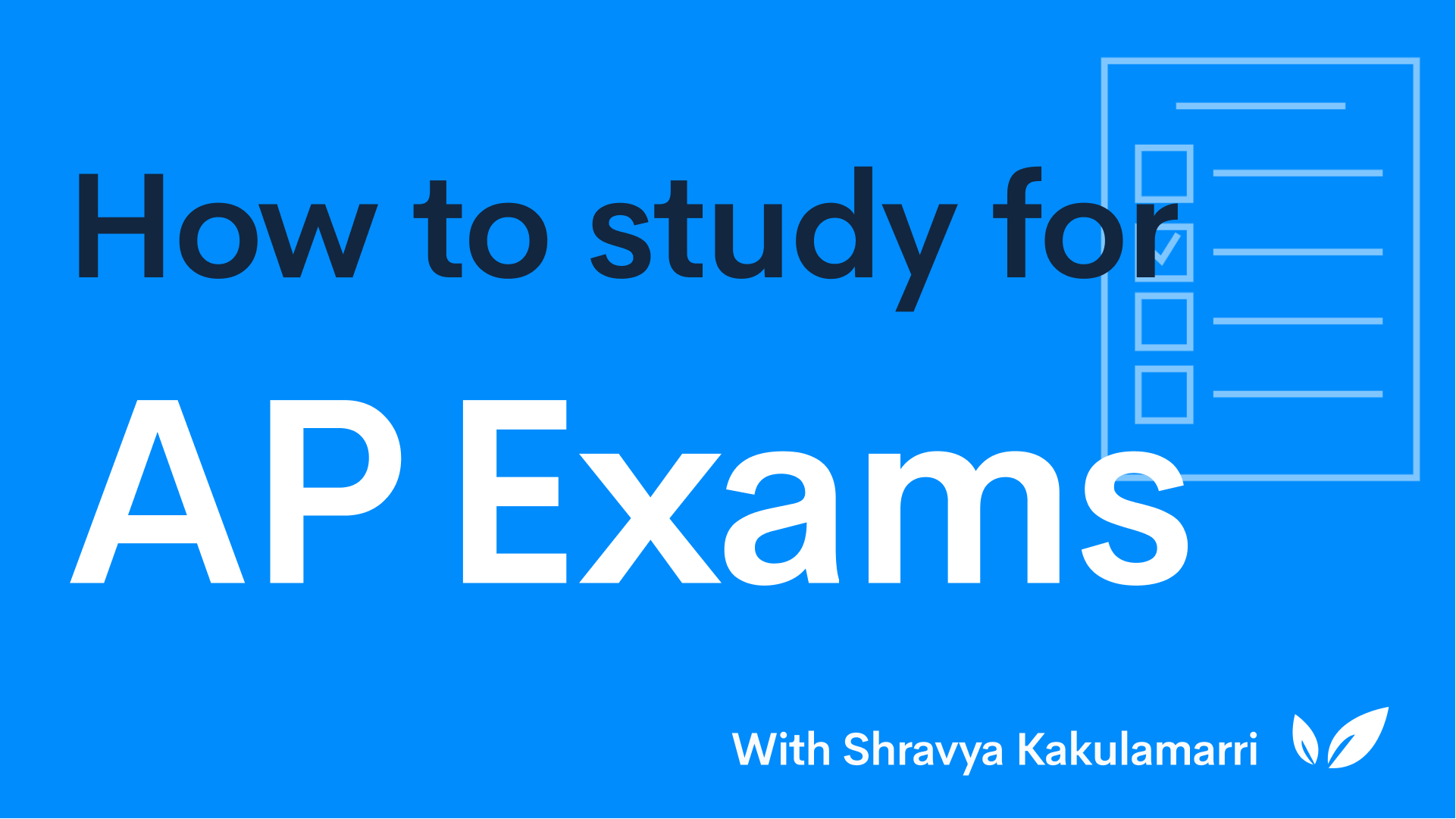 Studying: what a concept. Everyone has their own way of doing it (with some being more productive than others) and with AP season coming up, you've probably been wondering how you can improve your own study habits.
But don't fear — Shravya is here! On this stream, she'll be bringing her best tips on studying for the AP exams and teaching you how to incorporate these practices into your current strategy. Stop by to ask any and all questions you may have about studying for a specific subject or just the APs in general.
Your host
Undergrad College: Rice University '20
Work Experience: During my time at Rice, I mentored dozens of high school students through the college application process, along with editing essays and tutoring students for the ACT/SAT. I also interned at a medical technology startup, conducted research in Brazil, and gave a TEDx talk. I recently finished applying to medical school; I've been admitted to multiple schools, and will be starting in the Fall.
My Admissions Story: I remember feeling very blindsided by the admissions process and not knowing where to begin. I hope that sharing my experiences and some of the things I've learned along the way will help guide other students in a similar boat.
Audience questions
These are questions from the audience that we had time to answer during the live session. If you have any other questions, you can request an answer from Shravya and other CollegeVine experts in
an upcoming livestream
or on the
Q&A Forum
anytime.
23:33
@Swati:
Which test prep books? Where to buy those?
30:59
@TK:
I am will be entering 9th grade and unsure of what colleges I will go to, so how to I search what colleges give credit to AP courses that my school is offering.
33:39
@sosi:
do the ap tests repeat the same information in different style again and again? similar to the sat math section for example?
41:54
@TK:
is placement credit different from college credit?
43:45
@TK:
Do some AP subjects need tutoring?If so which ones will be good
45:39
@sosi:
what if taking too many ap tests would put a financial burden on your family? would colleges consider this?
47:00
@NF:
Do students ever take a AP course but not the exam?
48:03
@NF:
My school offers AT not AP courses. How different can the course material be from AP curriculum?
49:00
@NF:
Advanced Topic... don't teach to the AP exam
50:56
@sosi:
hmm but can i take the courses aside from my school? my school doesn't provide any courses
53:14
@TK:
What suggestion/advice can you give me to do this summer before entering 9th grade in Fall 2021.
55:53
@Marco123:
If I have finished an edx program, am I necessary to get the certificate? I think it costs $300
57:14
@NF:
Are you required to submit AP scores if you don't end up scoring well.
60:22
@sosi:
can i mention an online ap course in the common app coursework or is it not permitted?
Upcoming
Most recent recordings