Live Profile Review Session
Recorded Tuesday, September 15 at 09:45 PM
The recording will load in a moment.
About this livestream
Description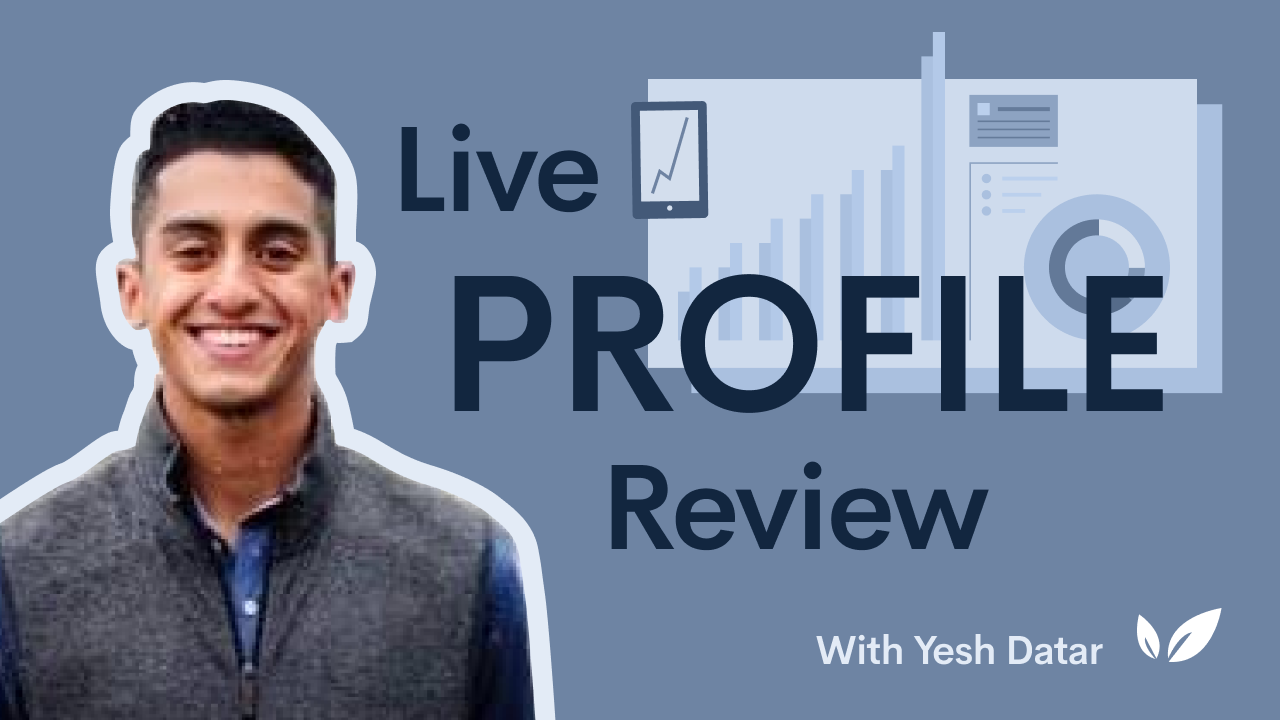 Get your admissions profile reviewed and receive suggestions to increase your chances of admission.
During this live profile review event, Yesh Datar will review real, anonymized student profiles. For each profile Yesh will share his assessment of your academics, extracurricular resume, and overall profile and make recommendations for enhancement. He'll also share an assessment of what your chances of admission are at different universities.
To submit your profile for review, please use the following form.
Your host
Undergrad College: Boston University '20
Major: Medical Science
Graduate College: Boston University School of Medicine
Work Experience: I've been working at CollegeVine for 3 years mentoring students through BS/MD and undergraduate admissions. I am currently a medical student and have done research at Boston Medical Center, Dana-Farber, and the Brigham and Women's Hospital.
Audience questions
These are questions from the audience that we had time to answer during the live session. If you have any other questions, you can request an answer from Yesh and other CollegeVine experts in
an upcoming livestream
or on the
Q&A Forum
anytime.
20:25
Sankirth:
Please correct me if I am wrong, but you said 7 APs are the threshold?
20:46
Ammar:
By how much percent is the acceptance rate of a typical international student lower that that of an american one?
21:47
Mingyu:
what is the difference between unweighted and weighted GPA?
22:31
Sankirth:
How do these profiles get selected? How do we get recommended?
23:43
Katelyn:
Also do you think my experience with my mothers multiple health conditions could help me get accepted in a BS/MD program
24:34
Joshua:
Should I submit SAT if apply ED to an ivy league but score is below the 50%
25:55
Ammar:
Do all the honors have to be official or documented? Do they need some kind of proof?
39:11
Katelyn:
Can you get into really competitive schools without super strong extracurriculars
40:18
Sankirth:
Do you suggest applying for our top school ED?
41:15
Max:
If I have to leave a little early, will a recording be sent out?
41:40
Sia:
How would selective colleges view an AP class that has content for 2 AP tests (for example, AP Econ = AP Macro + AP Micro)? Would it be considered 2 APs because it prepares you for 2 AP tests? Or would it just be considered 1 AP?
42:05
Ammar:
I am applying for philosophy and biology majors. What extracurriculars are good to have for me?
43:18
Evaa:
How much money raised for charity through a small business would be considered impressive by colleges?
44:08
Sankirth:
Can you elaborate on why we shouldn't apply for our top choice ED, but we should for mid-top range schools
45:10
Jina:
I found my interest in economics after taking AP Micro/Macro late this year. What are some extracurriculars for econ majors?
45:47
Isabella:
How much weight is given to national awards/competitions?
60:50
Elaine:
What if the majors I'm interested are not broadly provided in colleges I'm applying in?
62:40
Sankirth:
Can all high school grade levels submit a profile for review?
62:46
S:
If I can't do SAT due to covid should I submit PSAT ?
63:47
Samuel:
Is AP distinction an award? Are there awards for honor courses
64:39
Sankirth:
Can all high school grade levels submit a profile for review?
65:18
Vanessa:
How do we submit our profiles to be reviewed on a session?
66:44
Kawtar :
What med related ecs can be considered as impressive for an international student ?
68:40
Ammar:
What happens to a student profile and personal statement in the admission office? Is it viewed by a number of officers and then discussed or is the process itself based on voting?
Upcoming
Most recent recordings