How to Write the Harvard University Supplemental Essays 2020-2021
Recorded Wednesday, September 16 at 11:00 PM
The recording will load in a moment.
About this livestream
Description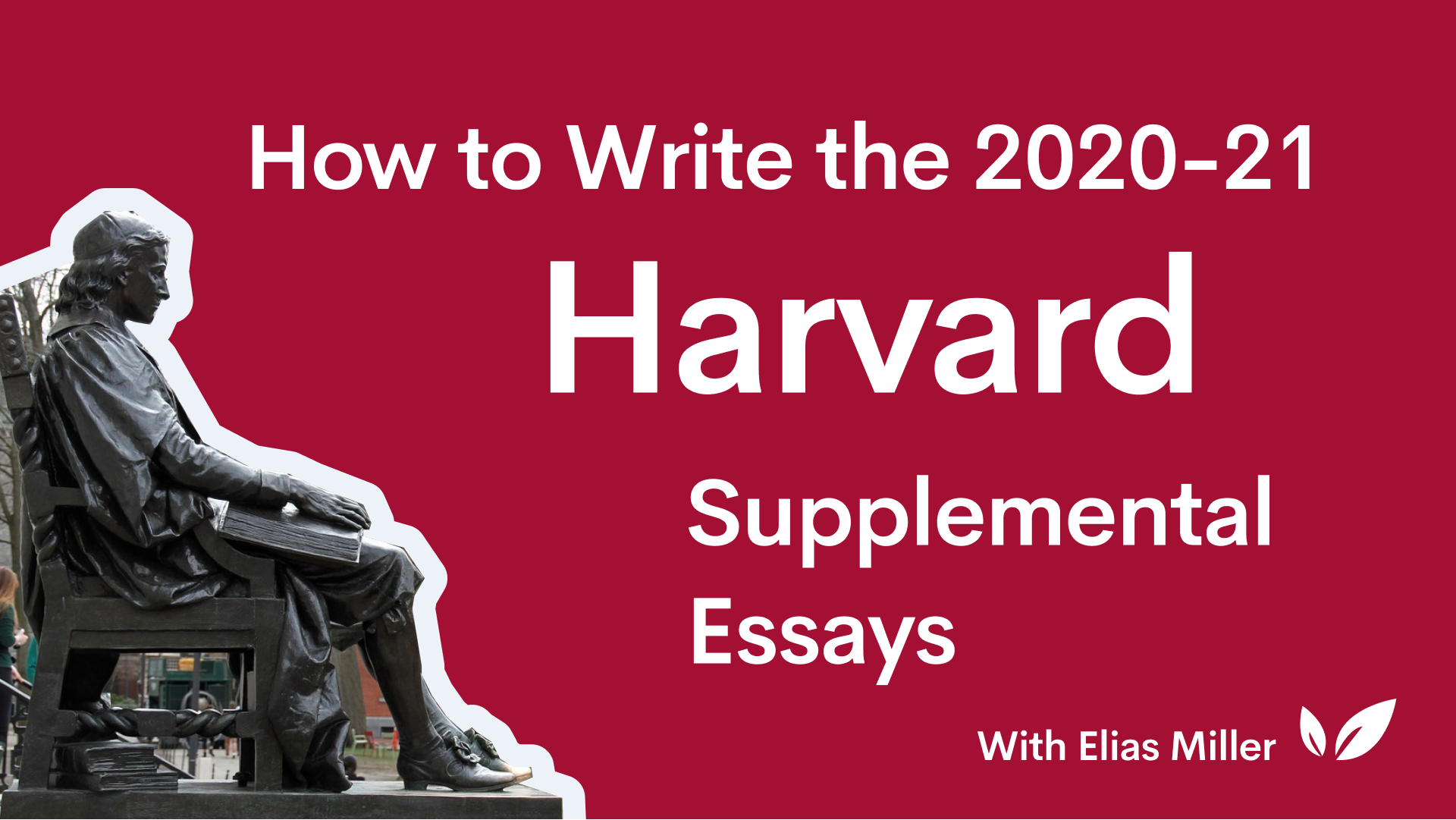 Learn how to write an awesome essay for your Harvard application.
Elias Miller, a recent graduate of Harvard College, will provide an in-depth breakdown of each of the Harvard essay prompts, discussing how to write a great essay in response to each one. He'll also share his take on the essays and topics you shouldn't write about for each prompt.
Finally, he'll open up the floor for a Q&A session, where he'll answer any and all questions about the Harvard essays.
Your host
Undergrad College: Harvard University '16
Major: Music
Graduate College: University of Michigan, M.M.
Work Experience: Now in my third year at CollegeVine, I have helped dozens of students gain acceptance to their top-choice schools and have also advised and mentored hundreds more through my livestreams. I am also a professional conductor and a multi-instrumentalist, and I currently serve as the music director of the Apollo Ensemble of Boston and as Opera Saratoga's assistant conductor. I have led symphonic concerts and operatic productions throughout the United States, and I'm looking forward to making my international conducting debut in Vienna this fall.
My Admissions Story: Initially interested in pursuing a career as a performing cellist, I applied almost exclusively to music schools with dual and double degree options and ultimately enrolled in the Tufts University/New England Conservatory Dual Degree Program. Unhappy with the combined program and worried I'd never feel like I was fully a student at either school, I logged back into CommonApp.org in October of my freshman year. I can't say I went about the transfer process in the smartest way (I only applied to two schools!), but Harvard miraculously accepted me (or 'excepted me' as I wrote in a celebratory Facebook post that day - no one ever let me live that one down), and the rest was history.
Audience questions
These are questions from the audience that we had time to answer during the live session. If you have any other questions, you can request an answer from Elias and other CollegeVine experts in
an upcoming livestream
or on the
Q&A Forum
anytime.
3:06
Elliot:
What Brahms piece are you conducting in the picture?
5:30
Evonn:
Hi, I'm Evonn. I wanted to know how student culture is like at Harvard and if you enjoyed your time there.
8:55
Y:
Hi Elias, when I am applying to Harvard College, do I have to declare an intended major during the application process?
11:06
Aditi:
Hey! you reviewed my essay (the law one with quid pro quo) its a lot better now, thanks
12:02
Adib:
I am sorry but did I miss the main session or will it start now?
12:19
Kim:
What is the vibe like in Cambridge with Co19? How are small businesses?
38:28
Cristina:
Is this being recorded and available later, having terrible connection today
50:58
Michelle:
How quick to switch concentration in Harvard?
52:39
Natanim :
How is the premed program at Harvard, if you know?
56:44
Aditi:
does the same logic apply for law school?
58:09
Y:
What "level" of competition would you advise then for pre-med hopefuls, if Ivies are disadvantageous?
60:25
Adib:
How flexible is Harvard in learning?
60:36
Colin:
I'm looking to study business/economics. What would be the pros and cons of studying economics at Harvard rather then going to Wharton for business? Also do you think that getting into Wharton is harder than getting into econ at Harvard? (I'm trying to figure out where to apply for ED)
63:58
Y:
Sorry for asking so many questions; could you clarify the difference between Harvard's restrictive vs., say, other schools' ED and how they effect chances?
68:04
Y:
Last question; so you mentioned merit scholarships, but I've heard that most Ivies only get financial need-based scholarships? Does Harvard differ?
72:47
Adib:
Sorry for so many questions....If Harvard is not radically advantageous in early decision can you tell some top schools that are?
74:17
Joscelynn:
So for prompt 1, you don't need to elaborate on those extra activities at all?
74:42
Colin:
I know that the early action acceptance rate is higher for schools, but I've heard that when applying early action you're compared to students with more impressive profiles. What disadvantages are there for early action? For example, reducing potential activities you could put on your application because of the months you lose by submitting early.
78:14
Cristina:
Can you talk about ED if you are international students and need financial aid (for those schools that include it, even in need aware)? Is it better to do ED, EA or RD?
80:39
J:
Where can I go to have someone review my essay?
82:25
Colin:
For schools which track demonstrated interest, what are the best ways to show interest virtually?
82:34
Colin:
Also, how much does demonstrated interest really matter?
93:19
Adib:
For prompt 1, is it more relevant to list the courses you took outside school or the fact that you did affiliate marketing of the course to afford more courses and generalize that you took courses.
95:24
Aditi:
Do admissions officers read your common app essay first and then your supplemental?
96:02
Manan:
I have expanded High school Robotics, FIRST Lego league and Speech teams which are set activities in a school but very important to me. How can I make it unique.
111:43
Adib:
Can I write the room mate essay as a letter based one. If not ; how to structure it
111:59
Y:
Do you know if Harvard has a website where people who were accepted share their application/essays/stats?
112:59
J:
I've moved around a lot since I was little. Could I use that to talk about how I've been able to adapt to different cultures, and how I've been introduced to multiple different perspectives? Or would that not be good for this prompt?
113:30
Adib:
Should I move unusual circumstances from CommonApp Essay where I wrote regarding it to here?
136:16
Cameron:
PROMPT #9. Since 340 Harvard freshman deferred this year, do you think answering #9 is more important and usual this year? Wouldn't HARVARD want to know that you are willing to take a deferred admission to make room for all the Class of 24 that want to start next fall.
137:28
Adib:
If I write an essay of my own choice...do I have to mention the title and if not how to specify the point I am making
137:54
Evonn:
Would it be okay to talk about living in Ghana when I was little and again five years ago for 2-3 years? Most of my family was born there, even though I was not. Also, could I relate it to how these experiences helped me learn more about my culture and ultimately more about myself?
139:14
Joscelynn:
For the deeply personal essays (like prompt 10), would it still be better to be Harvard-specific (possibly near the end), or could I just write about myself?
140:26
Kim:
Is was moving back and forth between parents and between US/NA reservation.
142:24
Colin:
he coalition application has the locker feature where you can upload files and stuff. What kind of things would you recommend putting in there? What stuff would you not reccomend putting?
144:07
Grace:
I am a Freshman in high school, is there anything you recommend for me to start doing now to raise my chances of acceptance?
145:43
Michelle:
Could I submit Common Application to the same school multiple times? So that I don't miss the deadline and also can update it if needed.
146:02
Kim:
https://www.nytimes.com/2017/05/12/your-money/standout-college-application-essays.html. I am thinking of the last one: "I live on the edge..." The first one is also beautiful!
148:24
Colin:
Would that be a good place to link a social media account for an organization or a website?
155:30
Cristina:
what about SAT IIs
157:07
Y:
YES, a reading session of your essays would be wonderful :)
158:11
Michelle:
Thanks for sharing your essay. I like it. Could I ask what question your essay answered?
158:45
Cristina:
suggestion to how to write the activities list...
159:39
Cristina:
yes but they are too general