Live Essay Review
Recorded Monday, October 12 at 11:30 PM
The recording will load in a moment.
About this livestream
Description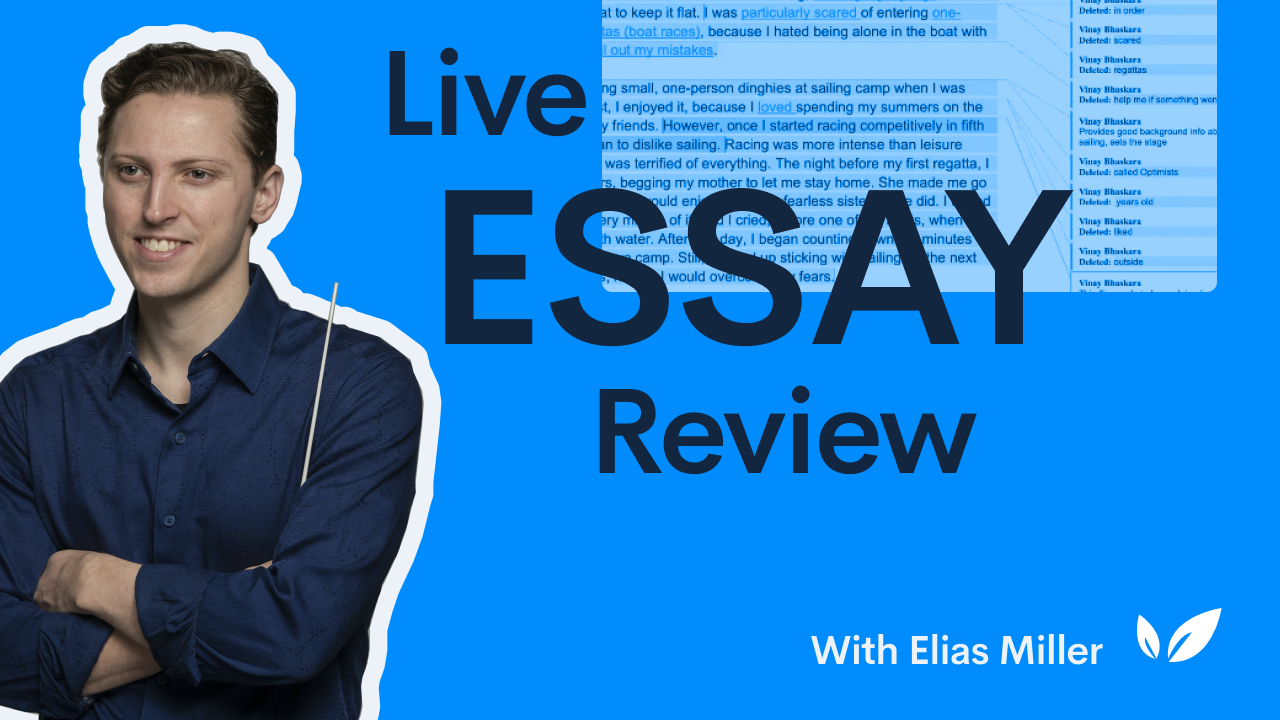 Get your college essay reviewed live during Monday's stream.
Elias Miller will review a select number of essays live during Monday's event. For each essay, he'll walk through how admissions officers would read the essay, then go paragraph by paragraph to offer suggestions for improvement.
To submit your essay for review, please use the following form.
Your host
Undergrad College: Harvard University '17
Major: Music
Graduate College: University of Michigan, M.M.
Work Experience: Now in my fourth year at CollegeVine, I have helped dozens of students gain acceptance to their top-choice schools and have also advised and mentored thousands more through my livestreams. Apart from my work at CV, I am also a professional conductor and a multi-instrumentalist. I currently serve as the music director of the Apollo Ensemble of Boston, and I have led symphonic concerts and operatic productions throughout the United States.
My Admissions Story: Initially interested in pursuing a career as a performing cellist, I applied almost exclusively to music schools with dual and double degree options and ultimately enrolled in the Tufts University/New England Conservatory Dual Degree Program. Unhappy with the combined program and worried I'd never feel like I was fully a student at either school, I logged back into CommonApp.org in October of my freshman year. I can't say I went about the transfer process in the smartest way (I only applied to two schools!), but Harvard miraculously accepted me (or 'excepted me' as I wrote in a celebratory Facebook post that day - no one ever let me live that one down), and the rest was history.
Audience questions
These are questions from the audience that we had time to answer during the live session. If you have any other questions, you can request an answer from Elias and other CollegeVine experts in
an upcoming livestream
or on the
Q&A Forum
anytime.
5:00
@anonymous:
its about 650 words (recommended)
38:25
@student17:
How do we give you our essay to review?
39:05
@anonymous:
will I be able to watch this again after it's done?
39:50
@aleciabelle616:
I submitted two essays but they are both very short (both 250 words), because they are both short can I get both reviewed?
40:23
@anonymous:
How can I know if my essay is will be reviewed or is it randomized?
40:40
@student17:
Off topic question, do you think submitting an RD App to Harvard early could help even slightly?
62:01
@anonymous:
At what time is this live review ending just wondering?
75:10
@halima928:
for the additional info essay can we just address multiple things or does it have to be a coherent essay
78:28
@Thaich:
How many more essays will you be reviewing today?
Upcoming
Most recent recordings