Live Profile Review Session
Recorded Sunday, September 13 at 07:00 PM
The recording will load in a moment.
About this livestream
Description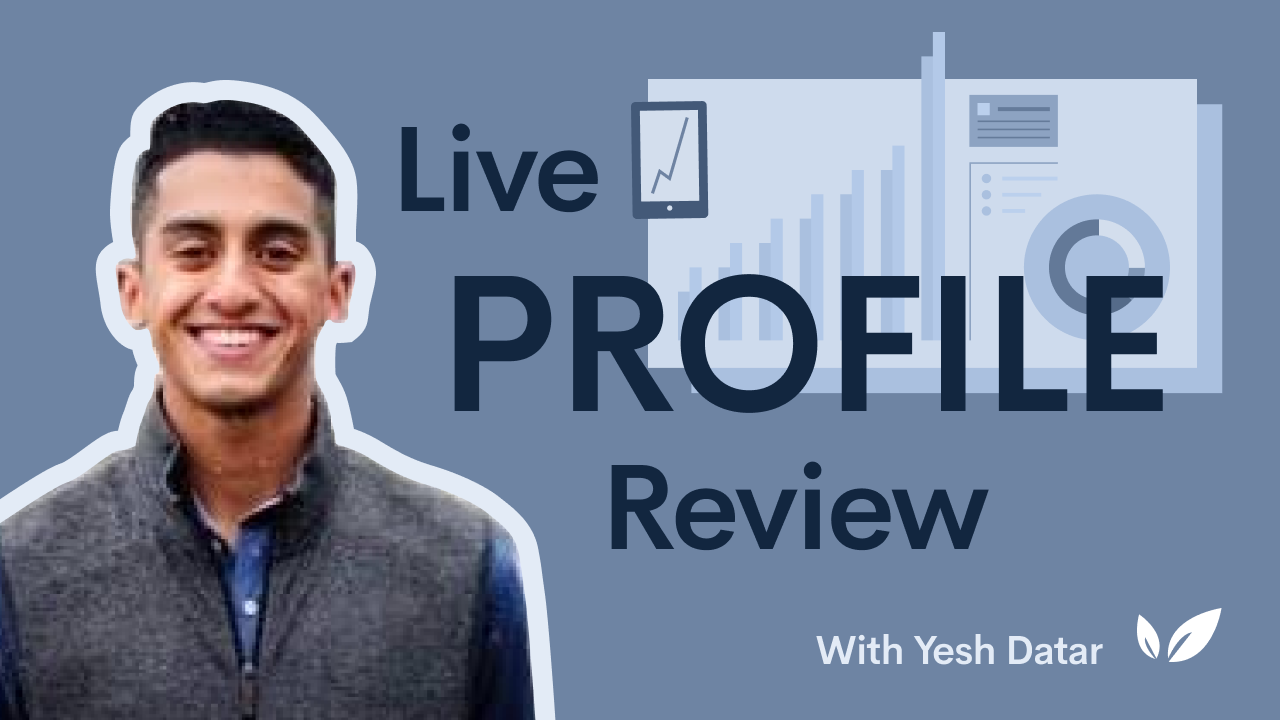 Get your admissions profile reviewed and receive suggestions to increase your chances of admission.
During this live profile review event, Yesh Datar will review real, anonymized student profiles. For each profile Yesh will share his assessment of your academics, extracurricular resume, and overall profile and make recommendations for enhancement. He'll also share an assessment of what your chances of admission are at different universities.
To submit your profile for review, please use the following form.
Your host
Undergrad College: Boston University '20
Major: Medical Science
Graduate College: Boston University School of Medicine
Work Experience: I've been working at CollegeVine for 3 years mentoring students through BS/MD and undergraduate admissions. I am currently a medical student and have done research at Boston Medical Center, Dana-Farber, and the Brigham and Women's Hospital.
Audience questions
These are questions from the audience that we had time to answer during the live session. If you have any other questions, you can request an answer from Yesh and other CollegeVine experts in
an upcoming livestream
or on the
Q&A Forum
anytime.
20:15
Liz:
does the need for financial aid really matter in admission? most ivy talked about need blind. is covid changing that
22:04
Demi:
are you just doing the 10 profiles? i just submitted my profile and i was wondering if it would be reviewed.
24:33
Amani:
how can we tell if schools are need blind? should we reach out to them?
39:18
Sarvesh:
I'm applying to college this year and am planning to take a gap year (by deferring my enrollment) to focus on gaining experience in my field of interest. Would adding my gap year plan to my extracurricular profile boost my application? If not, how should I incorporate it so that it is considered during my application review?
42:28
Colin:
Colleges require that a certain amount of your teachers write recommendation letters for you. Could you ask another member of school staff like an assistant principle to write a recommendation in place of a teacher recommendation?
42:43
Liz:
sounds like extracurricular has to tie to the major/academic interest?
58:54
Mỳe:
Are Arts and Humanities related profiles popular here?
59:47
Colin:
When you ask for number of AP classes taken, do you mean amount of classes completed by the time you apply or amount taken by the end of senior year? For example, I will have taken 9 at the end of high school but have only completed 4 as of now.
60:15
Colin:
Also what percent chance does low-reach correlate with? Is this better or worse then when you say high-reach?
62:07
Don:
I understand from another College Vine webinar that test-optional selective schools expect SAT scores to be lower by approx. 60 points this COVID impacted year. Do you agree with that projection?
67:18
Colin:
Does early action actually increase admissions chances or do more highly qualified people just chose to submit early?
Upcoming
Most recent recordings