How to Get Into the University of Chicago
Recorded Wednesday, December 23 at 11:00 PM
The recording will load in a moment.
About this livestream
Description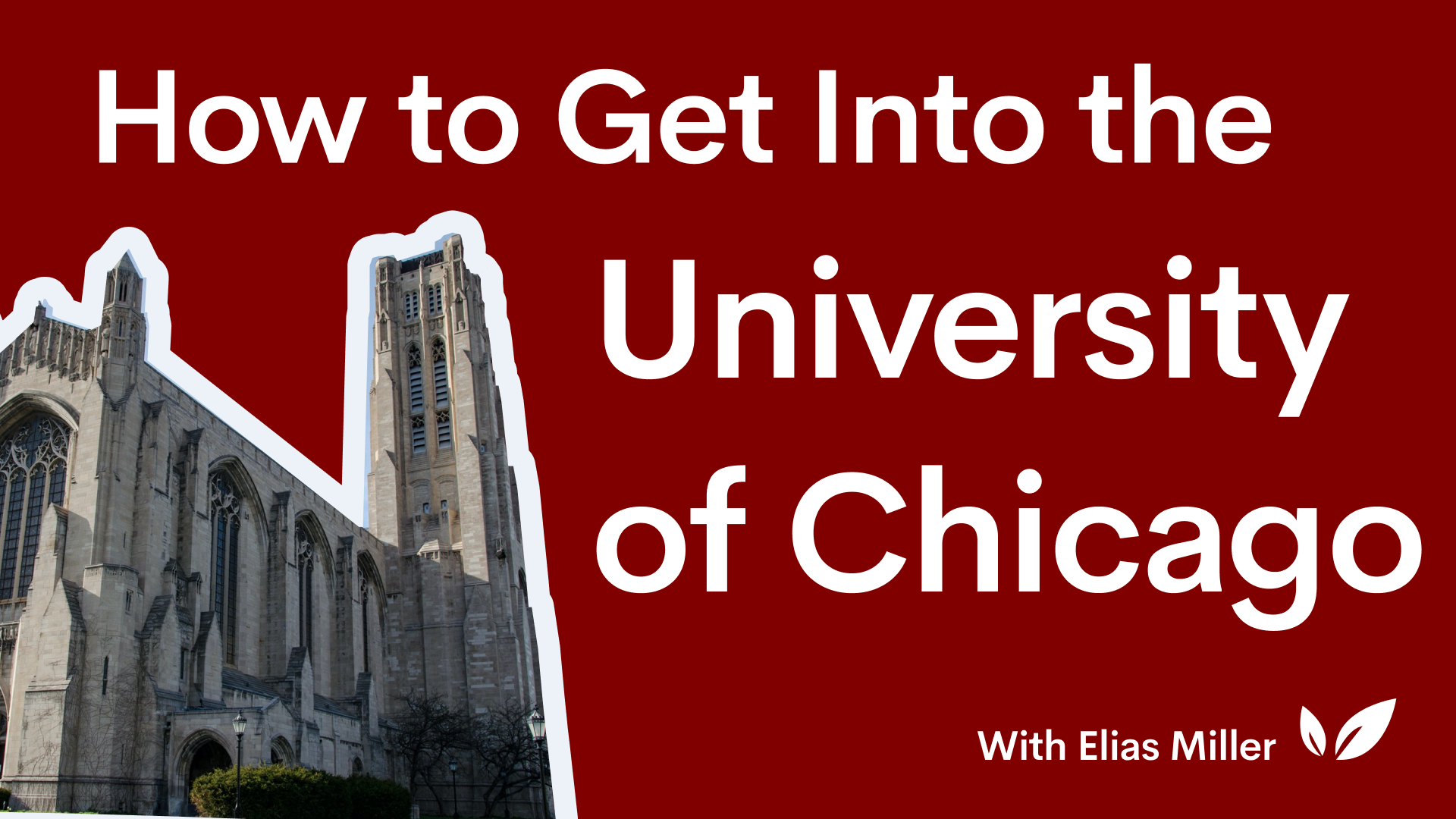 UChicago is a series of quadrangles in Chicago Illinois styled in a unique blend of English Gothic and modern architecture. This school is home to 92 Nobel Prize winners and traditions such as the fun Summer Breeze Festival and the lively Latke-Hamantash Debate.
Today, Elias Miller will be covering the ins and outs of how to get into the University of Chicago, with admission-related information spanning acceptance rates, academic preparation, extracurricular optimization, and of course, the notorious essays.
Don't miss this opportunity to have all your burning questions about applying to UChicago answered!
Your host
Undergrad College: Harvard University '16
Major: Music
Graduate College: University of Michigan, M.M.
Work Experience: Now in my third year at CollegeVine, I have helped dozens of students gain acceptance to their top-choice schools and have also advised and mentored hundreds more through my livestreams. I am also a professional conductor and a multi-instrumentalist, and I currently serve as the music director of the Apollo Ensemble of Boston and as Opera Saratoga's assistant conductor. I have led symphonic concerts and operatic productions throughout the United States, and I'm looking forward to making my international conducting debut in Vienna this fall.
My Admissions Story: Initially interested in pursuing a career as a performing cellist, I applied almost exclusively to music schools with dual and double degree options and ultimately enrolled in the Tufts University/New England Conservatory Dual Degree Program. Unhappy with the combined program and worried I'd never feel like I was fully a student at either school, I logged back into CommonApp.org in October of my freshman year. I can't say I went about the transfer process in the smartest way (I only applied to two schools!), but Harvard miraculously accepted me (or 'excepted me' as I wrote in a celebratory Facebook post that day - no one ever let me live that one down), and the rest was history.
Audience questions
These are questions from the audience that we had time to answer during the live session. If you have any other questions, you can request an answer from Elias and other CollegeVine experts in
an upcoming livestream
or on the
Q&A Forum
anytime.
6:29
Anonymous:
We wanted to know how to get into Stanford!!
17:36
Anonymous:
For Stanford does apply for EA and RD make a difference?
18:33
Anonymous:
if the applicant's aunt graduated from Chicago undergrad, is that considered legacy?
19:07
Anonymous:
Does the acceptance rate also include people accepted off the waitlist?
33:35
Anonymous:
does REA mean I can only apply to 1 EA schoo
34:14
Anonymous:
What is the average GPA required for the UC threshold
34:24
Anonymous:
If my extracurriculars have no specific trend, should I still list them all in my common app or only list the ones that have a common theme?
35:11
Anonymous:
Is double degree/major supported at UC?
35:52
Anonymous:
Not to misunderstand your message, but is there a threshold GPA for what races should aim for when applying to UC. So a Latinx person should have a lower GPA to be considered for acceptance but Asian American students should have a higher average GPA then Latinx students
45:55
Anonymous:
do senior grades get added to the average?
46:54
Anonymous:
Personally I do not have a 4.0 GPA but have an upward trend of 4.0 gpa semester averages can I still get in
47:23
Anonymous:
Can a higher SAT compensate for a lower GPA and vice versa?
47:52
Anonymous:
are weighted or unweighted gpas more looked at
48:21
Anonymous:
Would you recommend Class of 2023 students to still take SAT Subject tests?
49:57
Anonymous:
If I have not done well in my SAT and chose not to submit my score, will that harm my addmissions?
50:09
Anonymous:
Should I rely on my common app essay and supplements to compensate for other faults in my applications
51:13
Anonymous:
Should I start studying for SAT I right now? Class of 2023
51:32
Anonymous:
U Chicago is test optional and has been for awhile.
52:12
Anonymous:
This may be a little off topic but when should i ask for letters of reccommendations?
65:35
Hayden:
How should we try to get closer with our teachers during distance learning?
66:17
Anonymous:
is uchicago really considered equivalent to stanford (us news ranking) or is that ranking off a bit?
67:13
Anonymous:
Any tips for studying and getting good grades?
68:11
Anonymous:
I had 4 B+ in semester 1 of freshman yr and then a straight A student since then. If I can explain why, how will my academic part of my application be affected? (Final grades unweighted were A- and As).
69:03
Anonymous:
what are the top schools for political science majors besides the obvious ivy leagues?
69:34
Anonymous:
Will admissions officers be more forgiving of a few Bs taken during an online semester?
70:16
Anonymous:
How can one develop the type of creative thinking skills expected in the extended essay?
72:02
Anonymous:
Can you recommend good music/piano programs in the top universities?
75:24
Anonymous:
Non conservatory
78:42
Anonymous:
REA means I can only apply to 1 EA? EA means I can apply as many as EA I would like?? Thanks
78:45
Anonymous:
Can you explain EA REA etc?
79:24
Anonymous:
My school does a gpa out of 100, but i cant enter it into the college vine "chancing calc". What can I do to better understand my chances at uchicago if that's thee case?
Upcoming
Most recent recordings