How to Get Into Johns Hopkins
Recorded Thursday, December 31 at 10:00 PM
The recording will load in a moment.
About this livestream
Description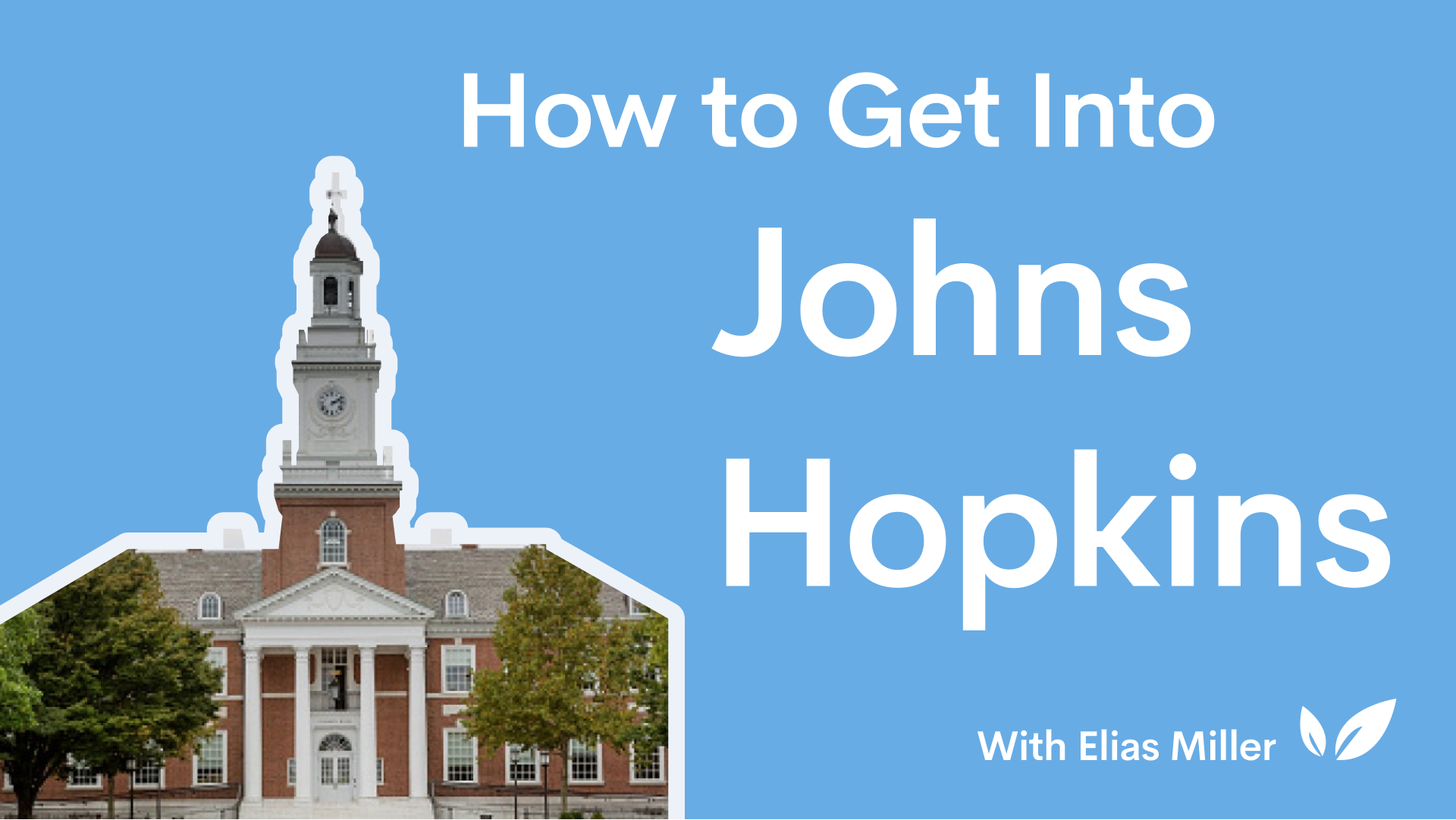 Johns Hopkins University is a prestigious American university in Baltimore, Maryland known for its stellar academics, innovation, and value for its cost of attending.
If you are a interested in becoming a Blue Jay, you won't want to miss Elias Miller's breakdown of admission to this school. We'll give you an in-depth look at the school's admissions process and how you can increase your chances of getting in. We'll also cover how to craft your profile, including academics, extracurriculars, and essay writing.
Check out this informative session to get all your questions about Johns Hopkins University answered!
Your host
Undergrad College: Harvard University '16
Major: Music
Graduate College: University of Michigan, M.M.
Work Experience: Now in my third year at CollegeVine, I have helped dozens of students gain acceptance to their top-choice schools and have also advised and mentored hundreds more through my livestreams. I am also a professional conductor and a multi-instrumentalist, and I currently serve as the music director of the Apollo Ensemble of Boston and as Opera Saratoga's assistant conductor. I have led symphonic concerts and operatic productions throughout the United States, and I'm looking forward to making my international conducting debut in Vienna this fall.
My Admissions Story: Initially interested in pursuing a career as a performing cellist, I applied almost exclusively to music schools with dual and double degree options and ultimately enrolled in the Tufts University/New England Conservatory Dual Degree Program. Unhappy with the combined program and worried I'd never feel like I was fully a student at either school, I logged back into CommonApp.org in October of my freshman year. I can't say I went about the transfer process in the smartest way (I only applied to two schools!), but Harvard miraculously accepted me (or 'excepted me' as I wrote in a celebratory Facebook post that day - no one ever let me live that one down), and the rest was history.
Audience questions
These are questions from the audience that we had time to answer during the live session. If you have any other questions, you can request an answer from Elias and other CollegeVine experts in
an upcoming livestream
or on the
Q&A Forum
anytime.
21:09
Anonymous:
What's a good amount of extracurriculars?
38:05
Steffanie:
https://finaid.jhu.edu/
39:03
Anonymous:
How may undergraduate pre-med students gets admitted to the medical school there?
40:09
Anonymous:
How will attending a religious high school impact an application,
41:27
Anonymous:
Does Johns Hopkins give merit based scholarships?
41:37
Clarissa:
are there any special requirements for international students?
41:56
Nahreen:
Happy New year eve everyone! Wishing us all the best in 2021 :)
42:06
Anonymous:
also, does living in state affect how much financial aid you receive?
42:42
Steffanie:
Happy New Year everyone!
42:43
Khayla:
Happy New Year! :)
42:49
Anonymous:
Is it okay to do a compare and contrast my experience at my high school and Hopkins in my supplement?
43:59
Clarissa:
happy new year!
44:07
Anonymous:
What would happen if your freshman year was poor? could you still have a chance at schools that are Ivy, UCLA B or Hopkins? And Happy New years:)
45:28
Anonymous:
what if sophmore year was poor?
46:33
Steffanie:
Do you need to add information in the additional information section?
47:58
Riley:
If my high school is less challenging academically compared to other nearby high schools, how will that affect my chances?
49:01
Anonymous:
could only having 11 years of school affect my chances in any way? (its because my country only has 11 years)
49:52
Nahreen:
Could you briefly explain early decision and what it entails?
52:23
Elizabeth:
Can you apply ED to two or more schools?
53:33
Steffanie:
What does blacklist mean?
54:29
Anonymous:
can you get legacy from siblings?
54:53
Anonymous:
Just wanted to say that you're great at hosting these livestreams in making them engaging
56:51
Steffanie:
Yeah, thank you so much for hosting!!!
56:53
Anonymous:
see you then!
57:22
Khayla:
thank you for this livestream!!
Upcoming
Most recent recordings