How to Write the Stanford University Supplemental Essays 2020-2021
Recorded Friday, October 2 at 11:00 PM
The recording will load in a moment.
About this livestream
Description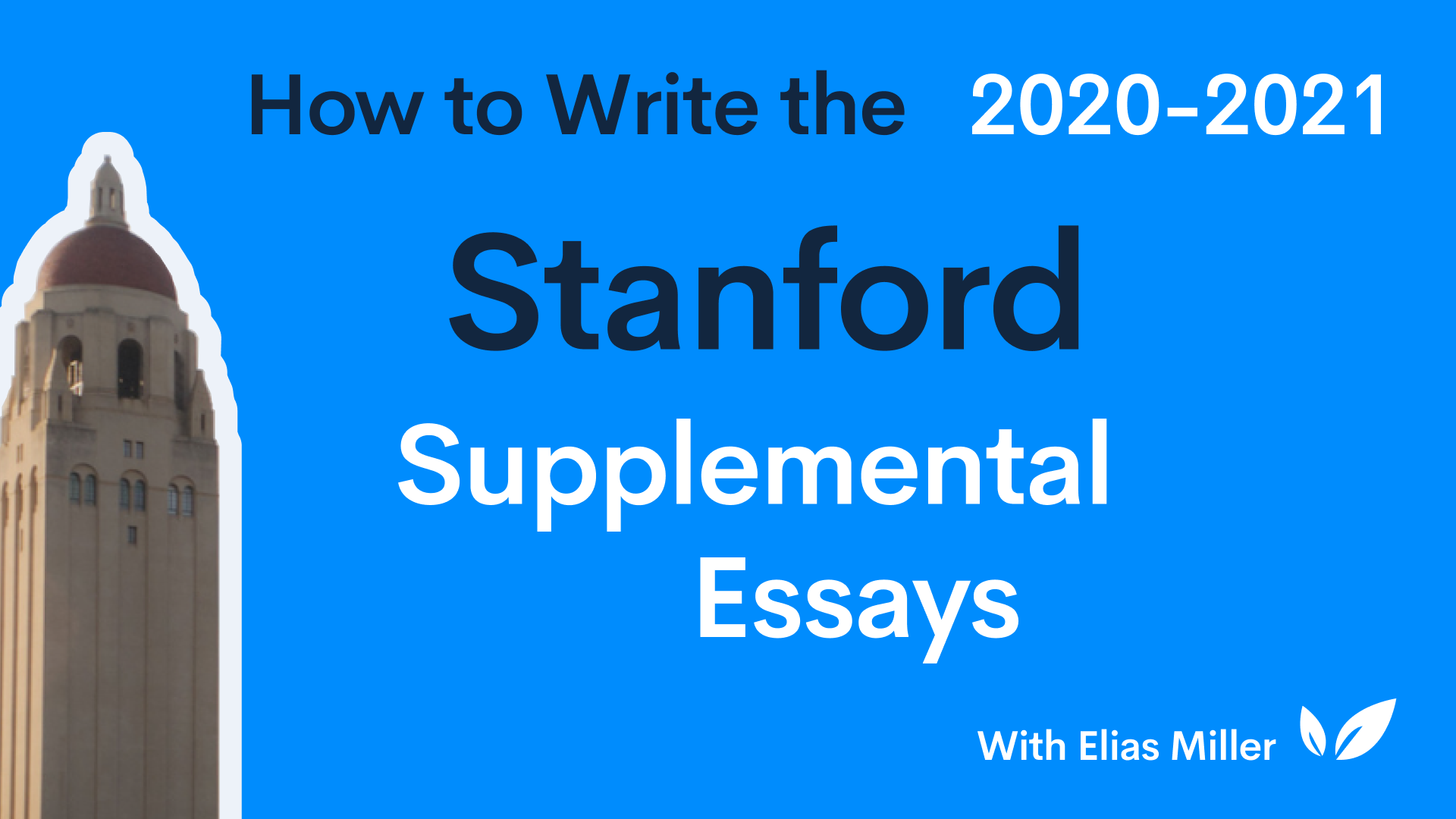 Learn how to write an awesome essay for your Stanford application.
Elias Miller will provide an in-depth breakdown of each of the Stanford essay prompts, discussing how to write a great essay in response to each one. He'll also share his take on the essays and topics you shouldn't write about for each prompt.
Finally, he'll open up the floor for a Q&A session, where he'll answer any and all questions about the Stanford essays.
Your host
Undergrad College: Harvard University '17
Major: Music
Graduate College: University of Michigan, M.M.
Work Experience: Now in my fourth year at CollegeVine, I have helped dozens of students gain acceptance to their top-choice schools and have also advised and mentored thousands more through my livestreams. Apart from my work at CV, I am also a professional conductor and a multi-instrumentalist. I currently serve as the music director of the Apollo Ensemble of Boston, and I have led symphonic concerts and operatic productions throughout the United States.
My Admissions Story: Initially interested in pursuing a career as a performing cellist, I applied almost exclusively to music schools with dual and double degree options and ultimately enrolled in the Tufts University/New England Conservatory Dual Degree Program. Unhappy with the combined program and worried I'd never feel like I was fully a student at either school, I logged back into CommonApp.org in October of my freshman year. I can't say I went about the transfer process in the smartest way (I only applied to two schools!), but Harvard miraculously accepted me (or 'excepted me' as I wrote in a celebratory Facebook post that day - no one ever let me live that one down), and the rest was history.
Audience questions
These are questions from the audience that we had time to answer during the live session. If you have any other questions, you can request an answer from Elias and other CollegeVine experts in
an upcoming livestream
or on the
Q&A Forum
anytime.
21:33
@anonymous:
is there any disadvantage if u dont take an interview?
22:16
@anonymous:
how to sign up for interview?
22:57
@anonymous:
What if Stanford does not offer interviews for certain applicants from certain regions? How can we still share our views and personality aside from essays?
24:51
@Cakesandpies:
for schools like Stanford how important is it for your extracurriculars to align with your major?
25:46
@anonymous:
If your application is sort of centered around a specific activity (ex: you are a varsity swimmer), would it be okay to repeat that topic in multiple essay since it is important to you?
27:00
@indy0518:
If my personal statement briefly mentions an extracurricular, would it be bad to use that activity in the 50 word extracurricular supplement?
27:30
@anonymous:
Is climate change a cliche subject to center passion around and repeat throughout the application?
35:01
@anonymous:
For these questions does writing style and diction matter more or should we just try to get to the point quick instead of worrying too much about sophistication?
42:20
@anonymous:
could it be a historical event close to you? Like something part of your life?
42:54
@anonymous:
What is considered obscure?
46:52
@anonymous:
Can the historical event be a historical moment in a sport I follow?
46:53
@anonymous:
Does the historical event have to be recorded by historians or people?
49:28
@anonymous:
Teddy Roosevelt + John Muir's yosemite trip?
50:03
@anonymous:
For example, a driver becomes the youngest champion ever in that sport
50:38
@anonymous:
Can we submit common app essay for peer review?
51:42
@anonymous:
That's great..whom do we send it to exactly?
54:39
@anonymous:
Are traditions or events the only thing we should write about experiencing at Stanford, what else can we talk about?
61:25
@anonymous:
What if my essays don't really match with my major but are authentic and show different sides of me?
62:05
@anonymous:
Must this curiosity link to your major or your main spike in admission Applic
71:40
@indy0518:
Would it be okay to focus the entire essay on just one interesting aspect of yourself instead of listing a bunch like the example?
75:22
@anonymous:
what if it's like a common household thing but has a deeper meaning. I was thinking of doing shoes and my first sentence is literally "As a one word answer - shoes" lol. I explain the meaning later though, would that be fine?
76:25
@indy0518:
would theatre/performing be too "basic" for essay 3? is it bad if its not related to major?
78:12
@anonymous:
Can I plug this 50 word response: The climate crisis is society's most critical challenge; wildfire smoke blocking out the sun a somber reminder. But, I'm unwavering in my optimism. Climate change is an intersectional opportunity to address the other pressing issues of our time, like racial injustice and economic inequality. We just need to seize it.
80:39
@anonymous:
Favorite piece of orchestral music?
82:05
@anonymous:
do you have a youtube channel?
82:48
@mimi:
If a school allows me to upload a resume, should I always?
83:25
@anonymous:
if i write about something meaningful to me in my Common App essay, should I write about the same thing for the "meaningful" essay?
83:39
@indy0518:
Is it bad if you don't have a spike in your application? I love Stanford but I worry about my application being more well-rounded
85:20
@anonymous:
What types of music are you studying now?
88:03
@anonymous:
I'm writing my essay about sailing competitively, but I'm not seeking to sail competitively at Stanford. Is this an issue?
Upcoming
Most recent recordings