How To Write The 2020-21 ApplyTexas Essays
Recorded Friday, October 16 at 08:30 PM
The recording will load in a moment.
About this livestream
Description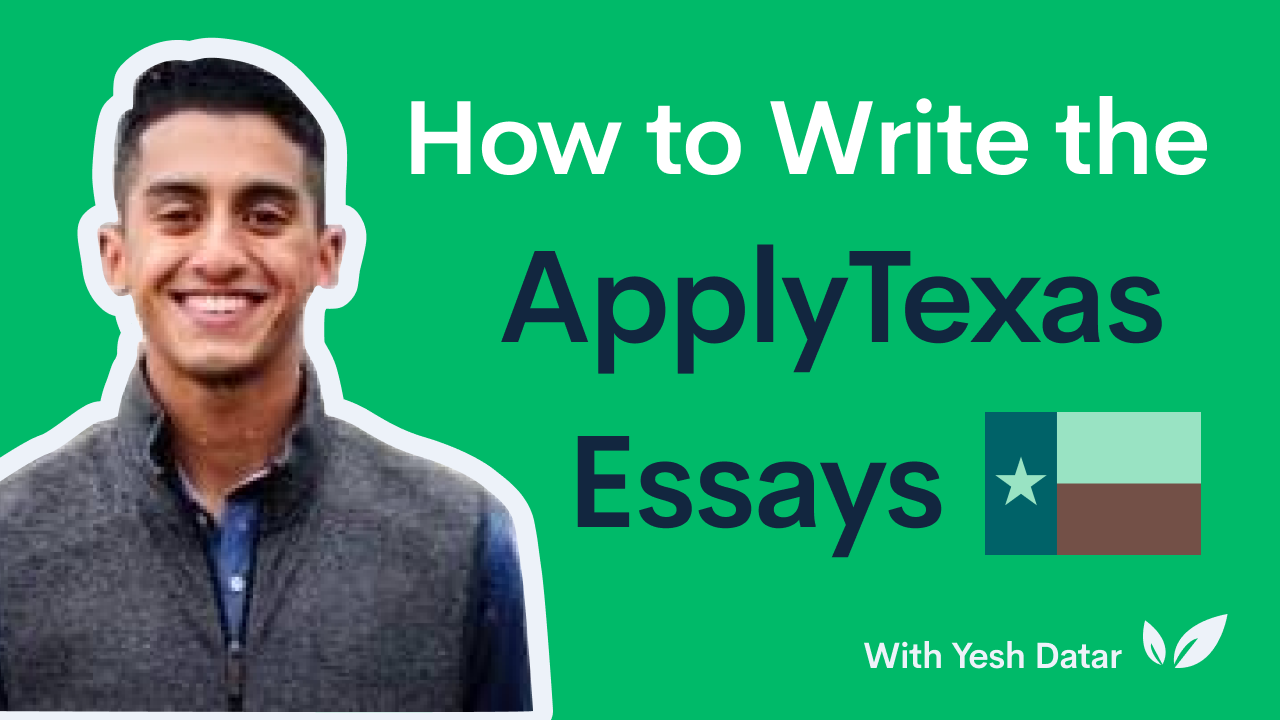 Learn how to write an awesome ApplyTexas essay for every single prompt.
Yesh Datar will provide an in-depth breakdown of each of the ApplyTexas essay prompts, discussing how to write a great essay in response to each one. He'll also share his take on the essays and topics you shouldn't write about for each prompt.
Finally, he'll open up the floor for a Q&A session, where he'll answer any and all questions about the ApplyTexas essays.
Your host
Undergrad College: Boston University '20
Major: Medical Science
Graduate College: Boston University School of Medicine
Work Experience: I've been working at CollegeVine for 3 years mentoring students through BS/MD and undergraduate admissions. I am currently a medical student and have done research at Boston Medical Center, Dana-Farber, and the Brigham and Women's Hospital.
Audience questions
These are questions from the audience that we had time to answer during the live session. If you have any other questions, you can request an answer from Yesh and other CollegeVine experts in
an upcoming livestream
or on the
Q&A Forum
anytime.
26:44
@anonymous:
I don't know how that really works (the collegevine essay review service) ... are we publishing for anyone to see our essay or will it be private for someone on collegevine (like yourself) to see?
46:24
@anonymous:
Prompt A asks us to talk about something related to High school. How do we talk about ourselves outside of high school?
48:25
@anonymous:
This is an off-topic question. But did you go to school far from home? If so how was it?
49:37
@mimi:
What % of the essay should be about reflecting upon myself. And should it be always at the end or not necessarily?
51:27
@mimi:
Can you give some advice on short questions? How different should I answer them from Topic A like essay?
52:51
@anonymous:
Can I do a flashback from HS to younger years back to HS and then reflection?
53:19
@anonymous:
How do we right a why major essay?
54:57
@mimi:
Should I still reflect on short answer questions?
56:05
@anonymous:
How much do majors matter?
57:43
@mimi:
Is being competitive bad for collaborative?
59:34
@mimi:
I meant if showing being a competitive person hints that not being a collaborative person at all?
Upcoming
Most recent recordings