How to Get Into Duke
Recorded Tuesday, December 8 at 01:00 AM
The recording will load in a moment.
About this livestream
Description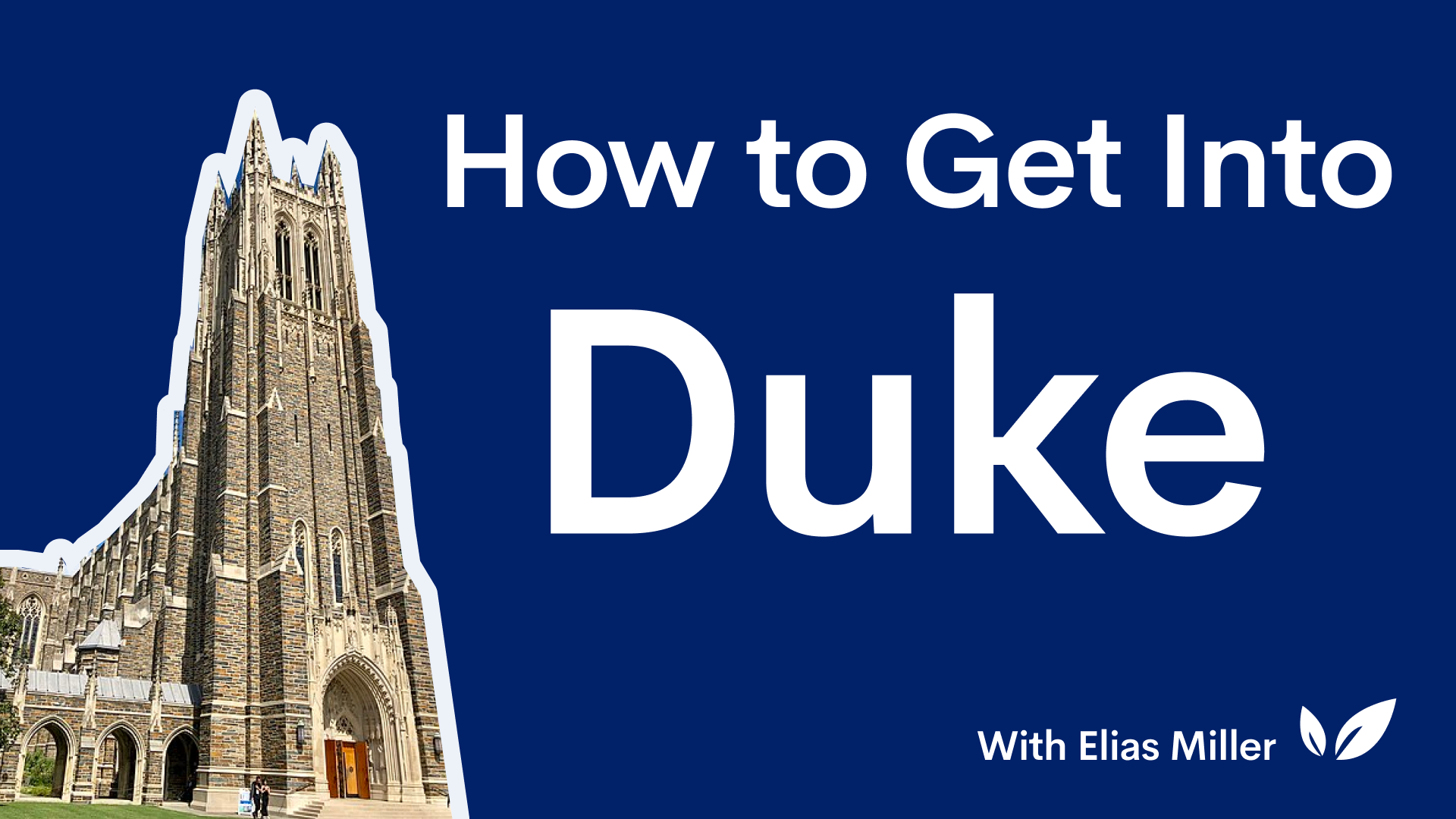 With its academic rigor, talented sports teams, and vibrant campus life, Duke is one of the nation's most highly ranked universities.
If you want to know what it takes to become a Blue Devil, join Elias Miller as we discuss how to navigate the school's slim acceptance rate. We'll discuss factors like the university's location, offered majors, dorms, and culture. We'll also help you craft an excellent candidate profile with advice on how to prepare your application.
Don't miss this great opportunity to learn more about maximizing your chances of acceptance to this prestigious institution!
Your host
Undergrad College: Harvard University '17
Major: Music
Graduate College: University of Michigan, M.M.
Work Experience: Now in my fourth year at CollegeVine, I have helped dozens of students gain acceptance to their top-choice schools and have also advised and mentored thousands more through my livestreams. Apart from my work at CV, I am also a professional conductor and a multi-instrumentalist. I currently serve as the music director of the Apollo Ensemble of Boston, and I have led symphonic concerts and operatic productions throughout the United States.
My Admissions Story: Initially interested in pursuing a career as a performing cellist, I applied almost exclusively to music schools with dual and double degree options and ultimately enrolled in the Tufts University/New England Conservatory Dual Degree Program. Unhappy with the combined program and worried I'd never feel like I was fully a student at either school, I logged back into CommonApp.org in October of my freshman year. I can't say I went about the transfer process in the smartest way (I only applied to two schools!), but Harvard miraculously accepted me (or 'excepted me' as I wrote in a celebratory Facebook post that day - no one ever let me live that one down), and the rest was history.
Audience questions
These are questions from the audience that we had time to answer during the live session. If you have any other questions, you can request an answer from Elias and other CollegeVine experts in
an upcoming livestream
or on the
Q&A Forum
anytime.
24:18
@anonymous:
Does Duke typically require any subject tests?
24:32
@anonymous:
is international in the pie chart referring to only those outside of the US or does it include non-US citizens and non-permanent residents as well?
25:38
@anonymous:
If one does not believe that they are worth applying to Duke would you still encourage them to apply?
27:28
@anonymous:
my son was on an L2 visa and was considered as an international applicant
27:56
@anonymous:
What is your recommendation for someone who is undecided about a major when applying to Duke (i.e. Communications vs. Psychology vs. Math)
28:21
@anonymous:
are acceptance rates lower for specific schools? like the engineering school, etc
48:14
@anonymous:
What score is a good score for subject SAT? Is 740 too low for the school like Duke?
49:03
@cutelittledumpling:
What about volunteer work? Hours? Kind?
49:52
@anonymous:
how much do you think the interview would affect the admissions process?
50:47
@anonymous:
Can admissions officers tells when activities are "fluffy" or done for admission
51:18
@anonymous:
for volunteer work, I know there's a Presidential Volunteer Service Award for doing 100 hours in a single year. I did over 100 years, but couldn't get it because of my citizenship status. Can I still talk about it on my application?
52:01
@anonymous:
What extracurricular activités can a student participate in if they are pursuing a buisness major?
53:21
@halima928:
My school has an award for 260+ volunteer hours but we don't get it until we graduate. If we have these hours can we say we got the award?
53:44
@anonymous:
Will applying as undeclared major at Duke has disadvantage .
54:20
@reese1100:
Can we put the Presiential Volunteer Service Award in the Awards and Honors section of the Common App?
54:32
@anonymous:
Does Duke or any colleges look at your senior year grades?
55:18
@cutelittledumpling:
is having a few B's freshman year going to negatively affect your application?
56:11
@anonymous:
How many number APs do they need to be
56:25
@anonymous:
When comparing gpa, do admission officers take into account the difficulty of a independent school vs a public school
56:54
@anonymous:
Do you think having strong essays makes up for a lower gpa
57:23
@anonymous:
Do you have a lower chance of getting in if you are applying from a school with more qualified applicants.
57:49
@anonymous:
Is there a minimum SAT?
58:11
@anonymous:
Do they superscore SAT
58:29
@aitanadudleygervilla:
What is your best tip, other than the ones you have given, to be more attractive to Duke?
Most recent recordings