Open Advising Hours with Elias
Recorded Monday, January 25 at 10:30 PM
The recording will load in a moment.
About this livestream
Description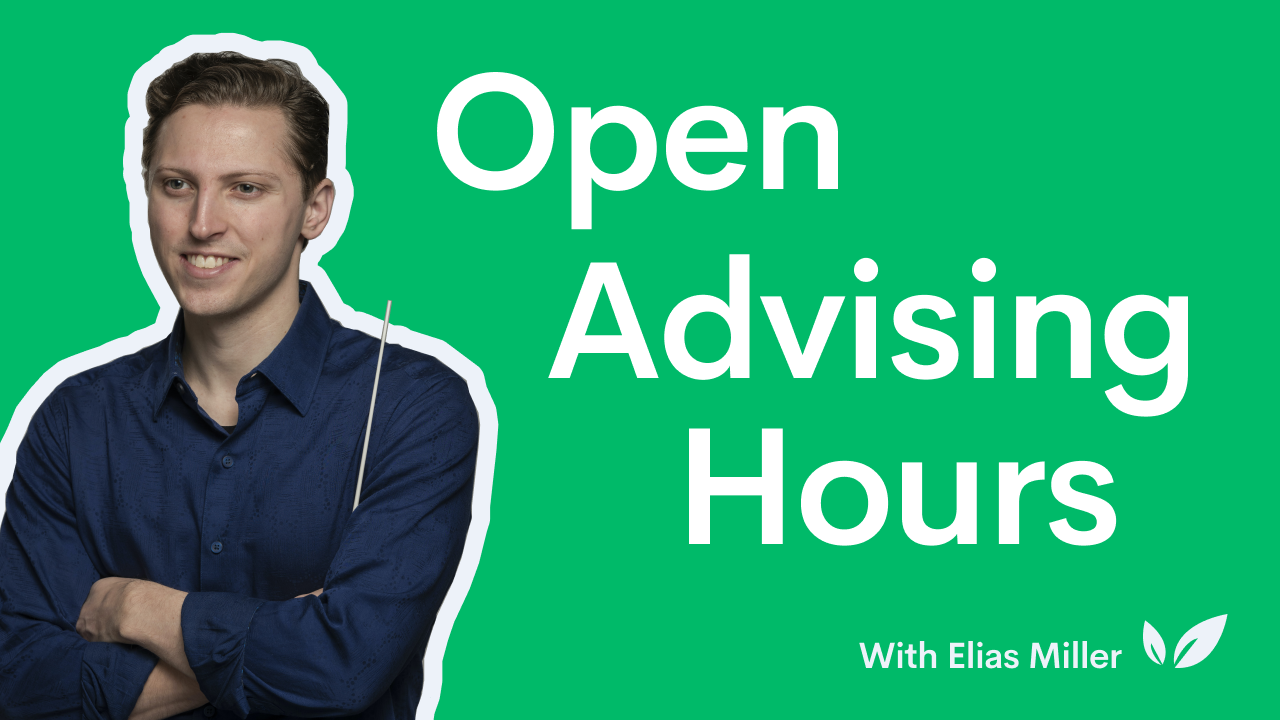 In response to popular demand, Elias is back for another edition of his open advising hours. He'll be available to answer your questions not only about the college admissions process, but also about career paths in music, the Harvard undergraduate experience, life, the universe and everything.
Your host
Undergrad College: Harvard University '16
Major: Music
Graduate College: University of Michigan, M.M.
Work Experience: Now in my third year at CollegeVine, I have helped dozens of students gain acceptance to their top-choice schools and have also advised and mentored hundreds more through my livestreams. I am also a professional conductor and a multi-instrumentalist, and I currently serve as the music director of the Apollo Ensemble of Boston and as Opera Saratoga's assistant conductor. I have led symphonic concerts and operatic productions throughout the United States, and I'm looking forward to making my international conducting debut in Vienna this fall.
My Admissions Story: Initially interested in pursuing a career as a performing cellist, I applied almost exclusively to music schools with dual and double degree options and ultimately enrolled in the Tufts University/New England Conservatory Dual Degree Program. Unhappy with the combined program and worried I'd never feel like I was fully a student at either school, I logged back into CommonApp.org in October of my freshman year. I can't say I went about the transfer process in the smartest way (I only applied to two schools!), but Harvard miraculously accepted me (or 'excepted me' as I wrote in a celebratory Facebook post that day - no one ever let me live that one down), and the rest was history.
Audience questions
These are questions from the audience that we had time to answer during the live session. If you have any other questions, you can request an answer from Elias and other CollegeVine experts in
an upcoming livestream
or on the
Q&A Forum
anytime.
7:18
Feng:
how to find an opera singing teacher, if u have any rec, please let us know
10:30
Eva:
Thank you for hosting the webinar. My daughter is currently studying in Germany, she is an IB1 student. She is a US citizen and we would like her to study in the US.
10:42
Eva:
Would IB help her differentiate herself?
11:37
Anonymous:
Need advice on course selection I want to go for pre-med and trying to take challenging courses related to my interest. Us it necessary to take AP world history or APUSH to show course rigor
13:35
Eva:
What advice do you have for a male student who wants to get into one of the top Computer Science programs? The admission rates are very low compared to non-CS programs at the same school, i.e. Carnegie
16:39
Eva:
Would you recommend to take SAT in addition to the IB diploma?
16:45
Sidney:
What advice would you give to someone who wants to study economics
21:36
Sidney:
Is there a ``perfect spike``?
22:47
Clarissa:
What if our extracurriculars have nothing to do with our intended major? I am an intended bio major but none of my extracurriculars have to do with bio/premed
24:17
Anonymous:
How about prep for policy, law + neuroscience ? what kind of summer or extracurricular could support this interest/ approach ?
26:14
Anonymous:
can you explain the significance on the removal of sat subject tests??
29:12
Anonymous:
Will SAT be more important this year?
30:22
Eva:
if I want to go to the top school, would National Merit Semi-Finalist status help?
30:31
Eva:
does it make sense to take the summer college level classes at CMU (very expensive) vs. taking the online courses on Coursera, EdX, etc.?
31:49
Anonymous:
do you think Ivys will go test optional
32:03
Sidney:
I´ve read that Cornell will no longer requires SAT for 2021-2022 applicants, do you think it could happen with other universities?
32:20
Anonymous:
How do I send college transcript grades? how soon?
33:05
Anonymous:
Cornell - test optional, which is not test blinded.
33:48
Anonymous:
What are some good free precollege science programs you are referring to?
34:26
Anonymous:
Will a 3 Bs freshman year kill my application
35:12
Anonymous:
Camera quality is sharp
35:28
Anonymous:
Do you think it may be more difficult to get into college than it was for the class of 25?
36:52
Anonymous:
Music, if the music level is above average, not at the professional level, is it still a good idea to submit recording / portfolio?
39:03
Anonymous:
Do AO submit the music portfolio to the music department, and have the real professor review it ?
39:28
Anonymous:
should I describe my activities in a quantitative manner?
40:14
Anonymous:
How do i start practicing for the SAT im still in sophomore year
41:01
Anonymous:
Is it true that all ED application are read more carefully?
41:59
Anonymous:
can colleges see through 'ungenuine' ECs? I know so many ppl who started so many nonprofits just for college
42:57
Anonymous:
Does that mean more ED acceptances this upcoming year? Because they don't know what covid will do?
43:48
Anonymous:
"start a nonprofit" like they just open a website
44:39
Anonymous:
this year Deferred - since so many applying for so many schools; do u think there is a chance on the deferred list or wait list.
46:57
Nathaniel:
Hey hope you're having a great day
47:24
Anonymous:
Will colleges care whether you get a 93 vs 100? an A is an A right?
47:45
Anonymous:
this 2020-21 yr, ED went lower than usual for Penn
48:19
Anonymous:
so there is a difference between 93 vs 98 ?
48:25
Anonymous:
what did u write about in your common app essay?
49:48
Nathaniel:
Quick question, with SAT essays being discontinued in June, should I do my SAT earlier so that I would've taken the essay?
50:13
Anonymous:
thank you. do school rank?
50:25
Anonymous:
How will the universities differentiate between applicants if tests will be optional?
51:00
Anonymous:
can I tie my passion for sustainability to business? I have lots of sustainability ECs.. will that be good enough
51:35
Houda:
Sat subject tests are still available in my country(I'm an internationalstudent) should I still take the SAT subject tests to stand out?
52:27
Anonymous:
YOU HAD A GREAT COMMON APP
52:39
Eva:
why are the UK colleges only three years compared to four yrs in the US?
53:01
Eva:
my son participated in the major fund raising (music recordings) but he wasn't leading it. is it worth mentioning it?
53:25
Anonymous:
What was your most impressive extracurricular?
55:33
Anonymous:
If u had to wrap up ur whole Harvard experience in one sentence, what would u say?
55:43
Anonymous:
How many Tier 2 activities did you have? Were all them related to each other?
55:58
Eva:
what are the best resources for the college essay writing? are there any good books or blogs that give some hints?
57:49
Anonymous:
Would you become an admission officer?
58:50
Anonymous:
How is the Harvard housing?
59:26
Anonymous:
can't someone in an essay peer review session use it as theirs?
60:35
Houda:
How is Greek life at Harvard?
62:00
Anonymous:
Is a spike in MUNs impressive?
62:09
Nathaniel:
I have to leave early, but I just wanted to say that your teams are absolutely amazing. Thank you for sharing your knowledge. I hope you have a great day!
62:23
Anonymous:
Does the volunteering have to be within your immediate community or it could be outside your immediate community to look good in the eyes of AOs
62:37
Clarissa:
what is a spike?
62:57
Eva:
is it worth mentioning about ADHD and how it impacted some of my grades in the essay?
64:13
Anonymous:
Yeah I was asking about tying my sustainability EC's (like research, passion projects) to business/econ/finance? Will my sustainability ECs hurt the fact that I am going for an Econ related major? Any recommendations on how I should present it in a compelling manner?
65:02
Anonymous:
Do you think a few (not related to major) awards/extracurriculars will hurt your application? I am currently an aspiring Economics major, and was wondering if a few short story publications would take away from the math/econ spike to be competitive for most t20s, Ivys, etc?
66:16
Anonymous:
Do you remember what you wrote about in your supplemental essays to Harvard?
69:31
Anonymous:
the screen freezed a few times, not sure if it is just us.
70:26
Sidney:
What were one of the most unique common app essay you´ve ever read?
72:09
Anonymous:
Is your Instagram talk at 7pm est?
72:20
Eva:
would expressing my political / citizen opinions hurt my application? are there certain colleges that are more conservative? what is the general rule on this?
74:47
Sidney:
I LOVE COLLEGE VINE
Upcoming
Most recent recordings