First Start for Freshmen: Advising Hours with Amanda
Recorded Monday, February 22 at 09:00 PM
The recording will load in a moment.
About this livestream
Description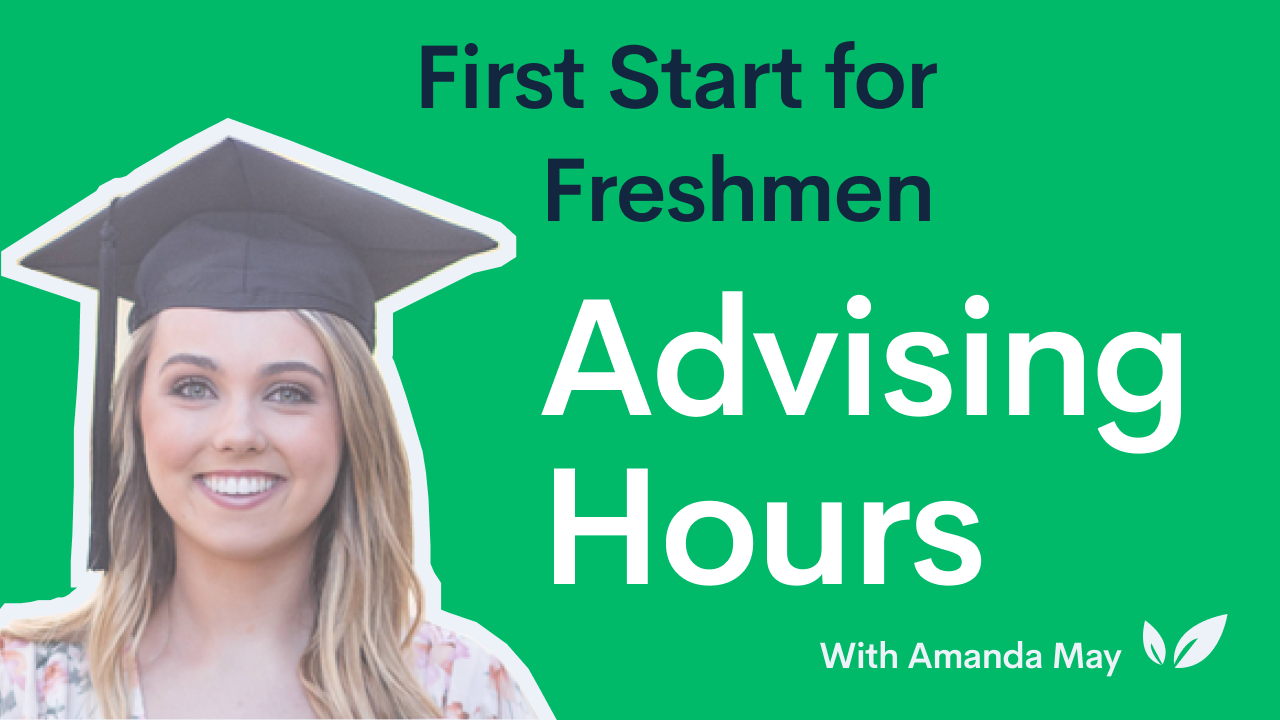 Join Amanda May for another installment of CollegeVine's First Start for Freshmen Advising Hours!
In this event designed specifically for current freshmen in high school and their families, Amanda will open the floor to allow you to ask any and all questions you might have about navigating the first year of high school and how to set yourself up for future academic success.
Stop in to ask a few questions or stick around for the whole hour to learn from other viewers' questions!
Your host
Undergrad College: Duke University '20
Major: Biology
Work Experience: Amanda has worked in four different research labs, two at Cambridge University (U.K) and two at Duke University. Additionally, Amanda worked as a tutor for Biology and Chemistry for several years and also served a sales manager for an apartment complex.
My Admissions Story: Amanda applied to colleges in both the UK and the US. After being accepted to Duke and visiting campus during the accepted students' weekend, Amanda knew that Duke was the perfect fit for her.
Audience questions
These are questions from the audience that we had time to answer during the live session. If you have any other questions, you can request an answer from Amanda and other CollegeVine experts in
an upcoming livestream
or on the
Q&A Forum
anytime.
4:42
Anonymous:
What tier in ECs/level of achievement would creating an app or website be? I want to use coding to connect people in some way through music.
7:28
Gina:
What shows passion?
9:09
Cynthia:
I'm on an iPhone and can't get sound
9:34
Elsa:
What do you suggest about leadership? Do you have any ideas on volunteering during COVID-19?
12:25
Gina:
Can you tell where you started freshman year- how did your college resume begin to form and grow. Is there one thing that stands out to you as you look back?
14:52
Anonymous:
I just got a b+ in my algebra 2 honors class last semester? Will this ruin my chances for admission to top tier colleges?
16:00
Anonymous:
how do you find out what you want to do outside of clubs?
19:31
Anonymous:
is it okay to have more than one main interest?
21:31
Anonymous:
I am in a very competitive magnet school right now, and I am not doing the best, only like top 30%. I'm preparing to transfer school since I am moving. I have the decision of whether transfer or not. I estimate I would be top 10% of the new school. What do you suggest? Are there any harms of transferring? I like both schools.
25:24
Sage:
are ivy league overrated?
26:48
Gina:
What do you think made you stand out on your college application to get into Duke. What were your fellow students like once you got there? Did you understand why they were accepted to Duke. Were there common factors? Seems like today there are so many top applicants. Trying to find out what schools look for.
34:24
Anonymous:
What do colleges like to see on college admissions? Is there a difference of how selective schools pick students to a less selective school?
36:22
Elijah:
Did you take the IB program, if so how did you score?
37:47
Anonymous:
Have you ever met someone who got into Harvard, Stanford, Duke, UPenn, and Columbia? Is that possible?
39:39
Anonymous:
are volunteer hours helpful?
41:32
Anonymous:
my school doesnt do the gpa scale and doesnt show us our rank... how do i make sure i am not falling behind?
43:51
Anonymous:
should i start networking with professors at my target school?
45:13
Anonymous:
My spike is environmental protection and business, what should I do to stand out? Do you think I should have a '3rd theme'?
46:49
Anonymous:
are accommodations within the campus always full?
48:59
Anonymous:
I'm really interested on the IB, should I take it?
49:25
Jonathan:
Hello, I hear that the college application process has been a "blood bath." Do you agree and if so why? Do you think you will see the same results for next year?
51:59
Gina:
Do you think test optional will really happen? How did you work on your test score?
54:18
Anonymous:
What is the difference between SAT and ACT?
56:14
Anonymous:
Do you recommend taking the IB program?
57:25
Anonymous:
can you major in two subjects, and get a degree for both
57:34
Anonymous:
How would we prove our commitment to extracurriculars on applications? Is competitions the only way?
58:08
Anonymous:
should we start applying to scholarships?
58:38
Anonymous:
please share ur scholarship and student loans application. how u applied. how much time it took for the process
59:10
Caroline:
How often is your GPA updated and how long do you have to improve it????
59:39
Elsa:
Do you think taking 4 HL subjects have a advantage compared to taking 3 HL's in IB? My school allows it.
62:06
Abdumajid:
If I want to become a Physician assistant in future what high school classes do u suggest I take?
Upcoming
Most recent recordings