First Start for Freshmen: Advising Hours with Amanda
Recorded Monday, March 8 at 10:00 PM
The recording will load in a moment.
About this livestream
Description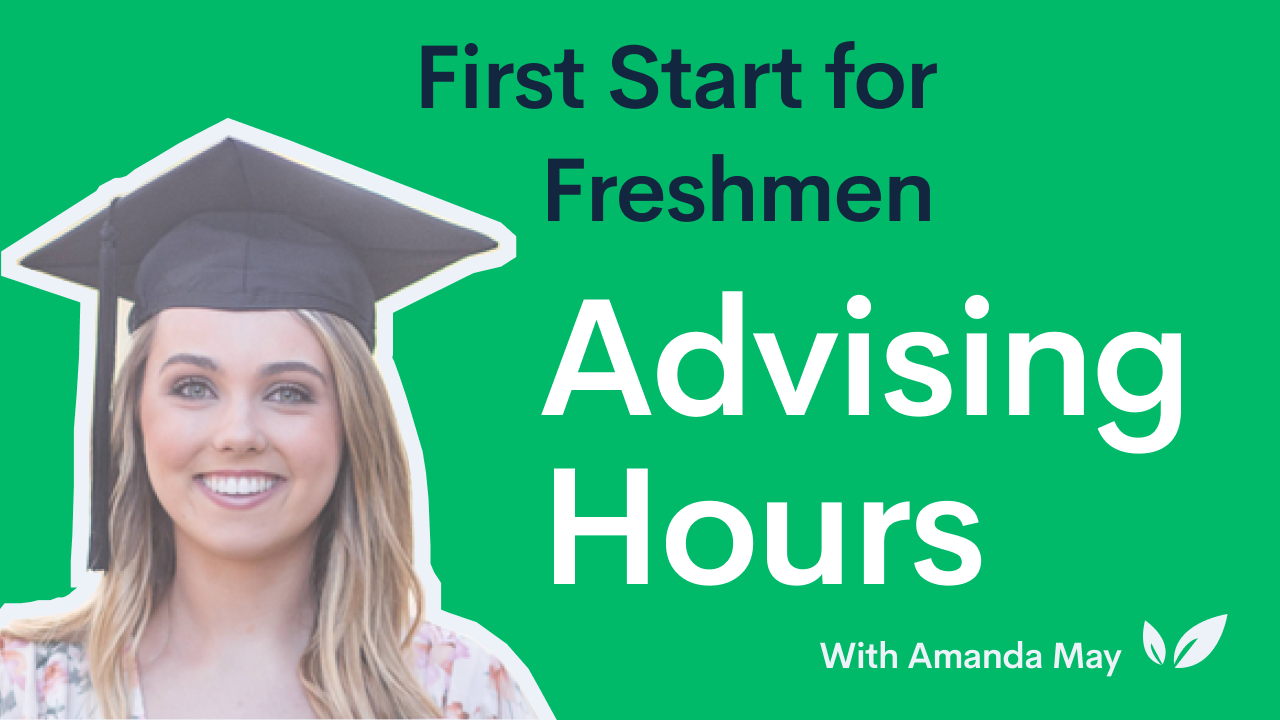 Join Amanda May for another installment of CollegeVine's First Start for Freshmen Advising Hours!
In this event designed specifically for current freshmen in high school and their families, Amanda will open the floor to allow you to ask any and all questions you might have about navigating the first year of high school and how to set yourself up for future academic success.
Stop in to ask a few questions or stick around for the whole hour to learn from other viewers' questions!
Your host
Undergrad College: Duke University '20
Major: Biology
Work Experience: Amanda has worked in four different research labs, two at Cambridge University (U.K) and two at Duke University. Additionally, Amanda worked as a tutor for Biology and Chemistry for several years and also served a sales manager for an apartment complex.
My Admissions Story: Amanda applied to colleges in both the UK and the US. After being accepted to Duke and visiting campus during the accepted students' weekend, Amanda knew that Duke was the perfect fit for her.
Audience questions
These are questions from the audience that we had time to answer during the live session. If you have any other questions, you can request an answer from Amanda and other CollegeVine experts in
an upcoming livestream
or on the
Q&A Forum
anytime.
3:19
Anonymous:
How many APs should I take?
6:18
Anonymous:
What are SAT Subject Tests and are they important for college?
7:43
Nidhi:
How can I organize my homework schedule so I can get enough sleep?
10:49
Anonymous:
How many extracurriculars should someone have for a college application?
13:32
Anonymous:
Can freshmen start using the chancing calculator on Collegevine?
15:12
Anonymous:
What is the PSAT/NMSQT and should I take it?
17:09
Anonymous:
What is the difference between an unweighted and a weighted GPA?
19:35
Anonymous:
How important are essays in college applications?
22:26
Anonymous:
Do internships boost college credit?
24:13
Anonymous:
How many extracurriculals should I take to look good on an application?
27:08
Anonymous:
What is early decision?
30:24
Anonymous:
How do I stop procrastinating?
35:42
Anonymous:
What is the common app?
38:03
Anonymous:
Should I try to talk to new people during high school?
41:22
Anonymous:
I don't know if I should go to college or community college or trade school
44:13
Anonymous:
What was your favorite part of high school?
47:11
Nidhi:
How do I manage the potential costs for college?
50:24
Anonymous:
Is it ok to apply undecided?
54:04
Nidhi:
How can I improve my writing?
Upcoming
Most recent recordings