Write-on Wednesdays: the personal statement
Recorded Wednesday, June 9 at 10:00 PM
The recording will load in a moment.
About this livestream
Description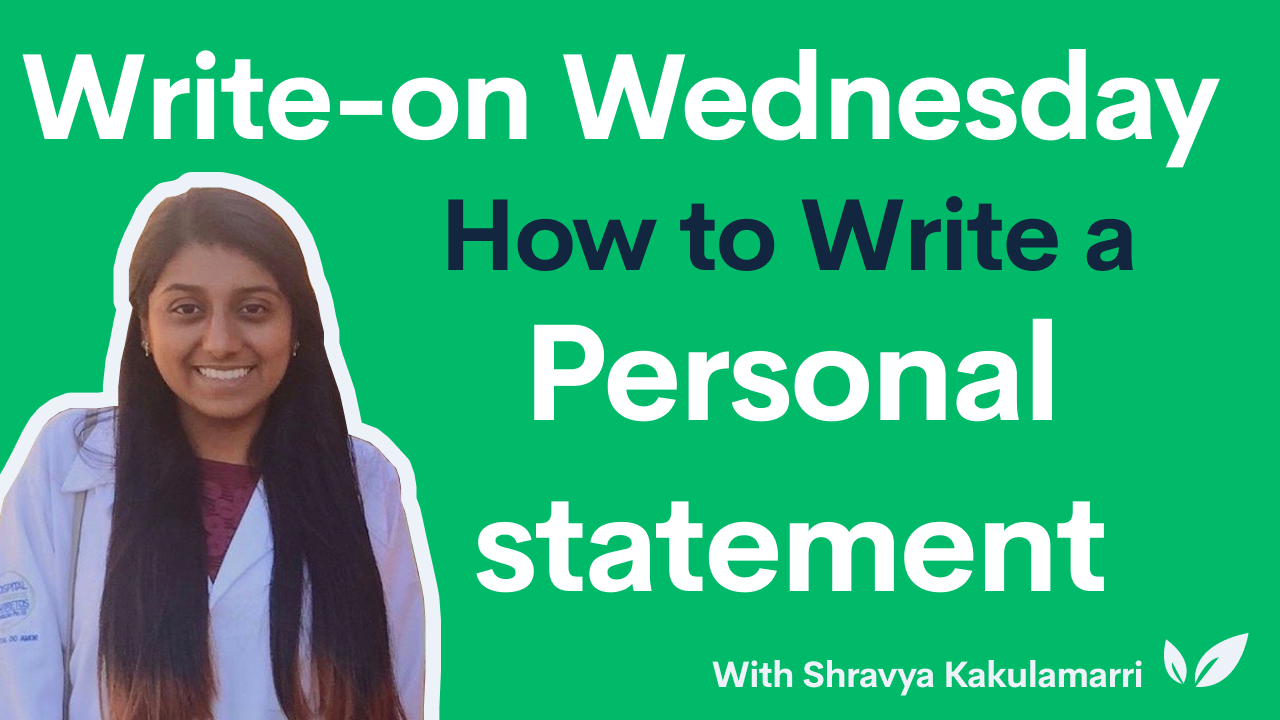 The personal statement is the most important essay you'll write during the college admissions process; it's how you'll communicate your personality and experiences to the admissions officers who will ultimately decide if you're a good fit for their school.
So, on this special episode of _WOW_, Hale will be providing a full breakdown of everything you need to know about the personal statement, including: what admissions officers are looking for, common mistakes to avoid, and general tips for writing. He'll also go through an example of an essay or two on-air so you can see how admissions officers would critique this kind of essay.
Hale will also open up the floor for a Q&A session to answer any questions you may have about the personal statement.
Your host
Undergrad College: Rice University '20
Work Experience: During my time at Rice, I mentored dozens of high school students through the college application process, along with editing essays and tutoring students for the ACT/SAT. I also interned at a medical technology startup, conducted research in Brazil, and gave a TEDx talk. I recently finished applying to medical school; I've been admitted to multiple schools, and will be starting in the Fall.
My Admissions Story: I remember feeling very blindsided by the admissions process and not knowing where to begin. I hope that sharing my experiences and some of the things I've learned along the way will help guide other students in a similar boat.
Audience questions
These are questions from the audience that we had time to answer during the live session. If you have any other questions, you can request an answer from Shravya and other CollegeVine experts in
an upcoming livestream
or on the
Q&A Forum
anytime.
5:16
@erinc:
so- the personal statement is THE ESSAY?
16:30
@erinc:
are there good places to submit your essay for feedback? you might answer this later.
22:25
@mailey06:
It paints a vivid picture and is flows well. It makes you feel like you're there essentially.
24:34
@erinc:
probably using "equation" too many times
29:14
@mailey06:
Again, the word "equation" was overly used, but the vocabulary was superb!
33:39
@mailey06:
An obvious run on sentence in the middle or could've made it more creative.
33:52
@erinc:
I might start the paragraph with the last two sentences starting "now I..."
35:49
@erinc:
That way you end with the strong statement
41:35
@User812:
Is it a good idea to exaggerate curtain parts of your essay?
43:26
@mailey06:
you talked about the common app, and are you then given the personal essay topic and that is the same essay you submit to all your choices?
45:45
@maxxxiii:
What if there's nothing "interesting" about you to write about?
47:26
@mailey06:
what do you mean there are so many prompts?
48:08
@pranavi_j.:
so does the #7 prompt mean that we can talk about anything?
49:43
@mailey06:
Thank you that helps
49:47
@mailey06:
When do you know what the topic will be?
54:18
@User812:
Is it more common to include one detailed story/event in your essay or multiple ones?
56:16
@Lunemoon:
I missed part of the session. Are questions available to view later from the audience?
56:37
@Collegeplan:
Where do you recommend including summer camps in college app
58:18
@Lunemoon:
I saved those thanks!
Upcoming
Most recent recordings