Just for Juniors: Advising Hours with Giebien
Recorded Tuesday, January 19 at 01:00 AM
The recording will load in a moment.
About this livestream
Description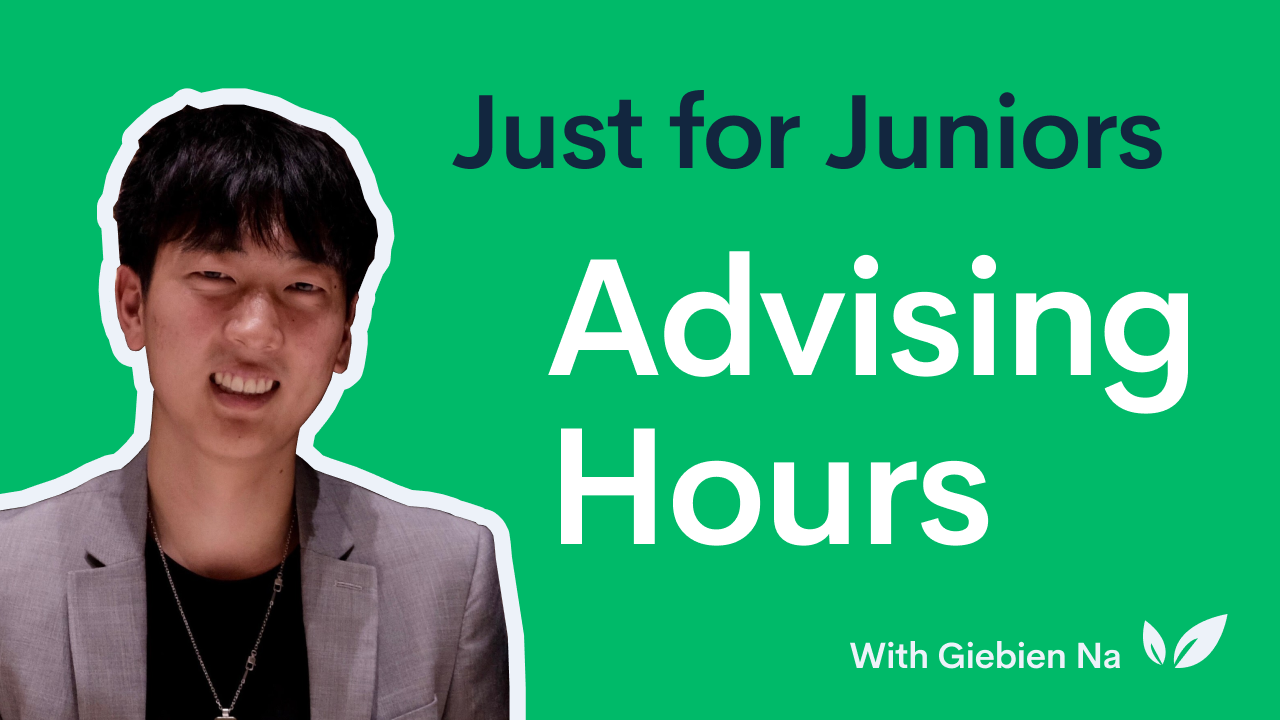 Join Giebien Na for another installment of CollegeVine's Just for Juniors Advising Hours!
In this event designed specifically for current juniors in high school and their families, Giebien will open the floor to allow you to ask any and all questions you might have about the admissions process. Stop in to ask a few questions or stick around for the whole hour to learn from other viewers' questions!
Your host
Undergrad College: Williams College '20
Work Experience: I first joined CollegeVine in the fall of 2016. Since then, I've worked as an essay and admissions consultant, SAT tutor, and hiring manager within the company. More recently, I've also advised hundreds of students in my livestreams, specializing in liberal arts colleges and standardized testing content.
My Admissions Story: I did almost everything wrong in my undergraduate applications, and I was never supposed to attend Williams. The fact that I did is the best thing that ever happened to me! I've learned a lot of tips over the years on what to do in your college applications, and I have ample first-hand experience of what not to do as well. But the biggest lesson of all? Don't let yourself stress too much about the admissions process. Things (somehow) found a way to work out for me in the end. They will for you, too!
Audience questions
These are questions from the audience that we had time to answer during the live session. If you have any other questions, you can request an answer from Giebien and other CollegeVine experts in
an upcoming livestream
or on the
Q&A Forum
anytime.
1:07
Anonymous:
could you address test taking as juniors . Where do colleges stand on SAT/ACT and subject tests.
4:04
Nathaniel:
I was wondering, Can you take an AP exam online?
5:03
Anonymous:
what should i be doing as a junior right now? should i start on college apps?
11:18
Anonymous:
what is considered a 'good' SAT score?
13:15
Anonymous:
should we take sat subject tests
15:45
Nathaniel:
If you go to a part-time accredited online highschool because your school doesn't offer advanced courses, is that respected? is that a good idea?
17:02
Anonymous:
Do Dual Credit courses help my application?
20:59
Anonymous:
What does a college essay look like?
24:20
Anonymous:
Would you kindly share your thinking of 2021 admission trends?
29:11
Anonymous:
How many AP tests should I turn in at least? Will three be enough?
31:55
Lisa:
how will colleges be looking at slippng grades due to lose of classroom time as each state and school community is doing school so differently
34:43
Anonymous:
Do you know if the median score is a superscore? I can't find anything that tells us that information. The schools that superscore ?
36:59
Anonymous:
When is a good time to start seriously researching colleges?
39:30
SARAH:
So basically find your middle ground first before researching?
41:15
Jazzmyn:
Is it better to take both the SAT and ACT, or is it best to stick with the one your state gives out?
43:28
Anonymous:
What makes an applicant stand out during the admissions process?
46:56
Anonymous:
What should I do during the summer before the senior year for the extracurricular? Like last summer, most of summer schools/internships were cancelled due to Covid-19. How about this summer?
50:15
Anonymous:
What should I do for college as a freshman?
52:06
Steven:
Where do you begin when making a potential college list? and like if you don't know that many to begin with
56:46
Anonymous:
Would you please summary key take aways from 2020 ED/EA application? For instance, the impact of 2020 class gap year and etc
59:03
SARAH:
Do recommendation letters really make a difference?
61:24
Lisa:
do anticipate a trend of students applying to more schools closer to home , in state schools?
62:38
Anonymous:
What are the prospects for PPE as major? Does it give any better prospect for law in graduate school compared to say English Major.
64:47
Anonymous:
Do we still need to take subject tests?
64:50
Anonymous:
How important are AP scores? Do they help to get into top schools?
67:13
Anonymous:
do top/competitive colleges care about subject tests?
67:51
Solada :
what are your tips for teacher rec. letters? Do I ask for teachers within the field of my study or should I ask one humanities teacher and one stem teacher?
70:09
Anonymous:
what's your thought on a 7 or 8 year medical program? is it a good option vs. take 4 year program then decide?
70:26
Anonymous:
are there any changes to the acceptance rates/requirements of combined programs like BS/MD or BS/DO?
73:57
Anonymous:
if i get into a BS/MD program and find i don't like it, how difficult is it to switch major?
76:15
Solada :
How much does being a national merit scholar enhance my application?
77:54
Anonymous:
are there any changes to the acceptance rates/requirements of combined programs like BS/MD or BS/DO?
79:38
Anonymous:
do seniors take sats/acts in spring of senior year?
81:18
Anonymous:
If shools say their SAT scores are optional, it's still better to have a good SAT score vs. not taking it?
82:37
Anonymous:
And we don't know the requirement for 2022 yet, thats only for 2021 graduates, correct?
83:58
Anonymous:
how long in between should we take sat tests?
86:52
Anonymous:
Do I need to take a lot of practice tests for SAT subject test ?
88:02
Steven:
Declared vs undeclared major if unsure? ex for me if i declare a certain engineering branch but might end up a different branch
90:55
Anonymous:
is the qas service good for sat tests?
91:38
Anonymous:
What's your opinion on having a private conselor
94:54
Solada :
Do you recommend juniors attending college summer programs?
94:57
Nathaniel:
What time do you recommend taking the SAT? Should you take it right before the applications, get your results when you start your application to have more time?
98:19
Anonymous:
is it a good idea to take the sats march, acts april, and sats again in june and august, and act in september? (with ap tests in may)
101:32
Anonymous:
College has no preference over SAT vs ACT?
103:18
Anonymous:
what's a good SAT score, generally speaking, anything over 1520?
104:41
Nathaniel:
Just wondering, How was your Monday?
105:43
Solada :
What's the difference between a liberal arts college and a research university
108:55
Nathaniel:
Which would you say is better? Liberal Arts or Research University
Upcoming
Most recent recordings